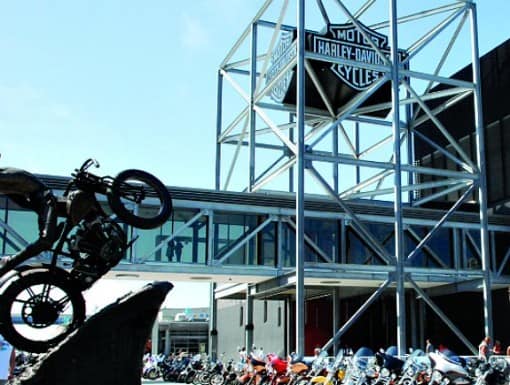 Not being a motorcycle enthusiast, visiting the Harley-Davidson Museum in Milwaukee, Wisconsin was not an attraction high on my list of things to do while visiting the city.  Still, taking the advice of others, I kept an open mind and visited the 20 acre riverfront facility that also includes a cafe, gift shop and green space. Loaded with a historical artifacts, a collection of past models and stories that depict the passion and culture of its riders, touring the museum, I was in HOG heaven!
The story of the Harley-Davidson Company begins simply in 1903 when two young machinists, William Harley and Arthur Davidson began tinkering with plans to create a motorized bicycle.  Working diligently in a 15 x 10 foot shed, located in the rear of Davidson's Milwaukee home, the first Harley-Davidson was born.
Future models, all proudly displayed throughout the Museum, show the motorcycle was a success for personal transportation and businesses alike.  Deliverymen used the machine with a side or rear compartment to transport everything from groceries, milk, Coca-Cola and even typewriter repair.  Soon even the government became customers as US Mail delivery and police departments purchased Harley-Davidson motorcycles.
It seems that almost as soon as motorcycles became available, speed and competition came into the picture.  Races of varying distance and terrain as well as  Motordrome races drew legions of fans.  Steep wooden tracks curved at a 45 degree angle called on the bravery of riders.  With very little protection to speed through the course, racers often touched their left knee and foot to the ground for balance.  Motordrome racing remained popular until bad publicity about the extreme dangerous nature of the sport forced many tracks to close.
I was fascinated to discover that motorcycles served a key component in the US Army beginning with the Spanish American War and WWI.  By WWII the use of motorcycles was so popular that the US Army 2nd Armored Division had its own uniform patch stating its nickname "Hell on Wheels".  During a six week training program, soldiers were taught to maneuver the motorcycles on rough terrain to serve as scouts, dispatch messages and first aid supplies to outlying areas.  A special Women's Motorcycle Core was placed into service for posts within the United States.
Social clubs formed around motorcycle owners, and particularly Harley-Davidson owners, as a way to meet other clubs and form friendships with those of like interests.  It was not uncommon for a club in one city to invite a neighboring club to join them on a ride that would end in a picnic, party or dance.  Clubs designed their own distinguishing logos and patches, shirts, jackets and other attire.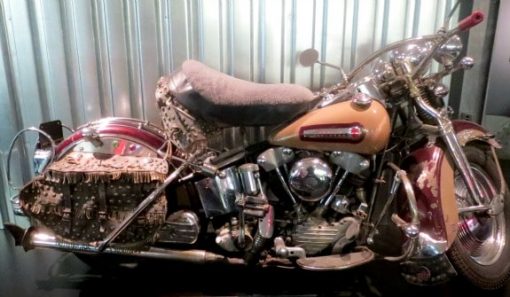 Following the war there was a renewal of interest in motorcycles since so many men had been trained to ride them.  With a surplus of army bikes available, and very few cars, it became popular to buy these, strip them of their military gear and add details and individualize the accessories that often expressed the rider's personality.  There was a huge growth in social clubs at this time with a few turning toward more non-social behavior.
Other exhibits showcase Harley-Davidson's link to Hollywood from motorcycles used in movies like Easy Rider to the black leather Harley jacket worn by Arnold Schwarzenegger in Terminator.  Interesting to me was that the bike used in the film Captain America had the appearance of a 1940's era motorcycle to fit the setting of the movie, yet had all the latest technology needed to perform the thrilling stunts.
Perhaps the most awe-inspiring exhibit for me was the display case featuring a mangled and rusted Harley-Davidson that was found washed ashore on an outlying island in British Columbia.  Tracing the license to the owner in Japan, the details of this incredible journey were revealed.  Contained within a nearby trailer, also found on the beach, the motorcycle had been swept away by the devastating tsunami and drifted to the beach in Canada.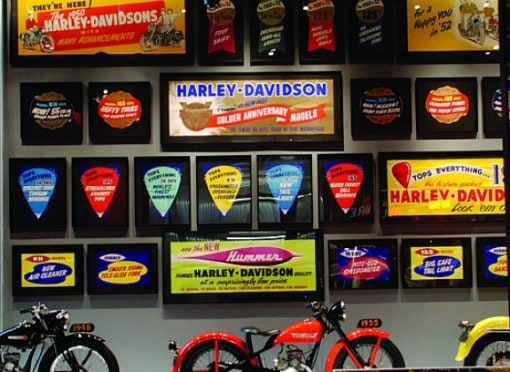 While Harley lovers will enjoy perusing two stories of motorcycle displays, I found the Museum to be a fascinating tale of the history and culture surrounding the Harley-Davidson products, the pride of ownership and the dedication of employees that save the company from near bankruptcy.  Perhaps the greatest testament to this is the beautifully displayed black motorcycle autographed by all 6,000 employees of the company to honor its 100th anniversary.
Now, as the company looks back on its 110th anniversary of the Harley-Davidson Company and a weekend full of events (August 29 – September 1, 2013), I can only imagine what might go through the head of Mr. Harley and Mr. Davidson if they could view the magnificent machines that started from bike number one created in a 15 x 10 shed.
Location:  Harley-Davidson Museum, 400 W Canal Street, Milwaukee, Wisconsin
Hours:  Open everyday 9 a.m. – 6:00 p.m. and until 8 p.m. on Thursdays
Admission: $18 adults, $10 kids, FREE under. Discounts for seniors, military, and students. Complimentary on-site parking
Photo Credits: Visit Milwaukee; 1947 H-D, J. Ingersoll
Disclosure:  The author received complimentary admission for the purpose of a review.
Having been transplanted numerous times, I have learned to explore the sites around our new found hometown, uncovering hidden gems and attractions. When vacation time rolls around, I enjoy traveling with my family and the occasional weekend escape with my husband, coming home to share our travel experiences with others. You can follow me on Twitter @JAIngersoll. My top three destinations are Walt Disney World Resort, the Midwest and any beach I can walk along.