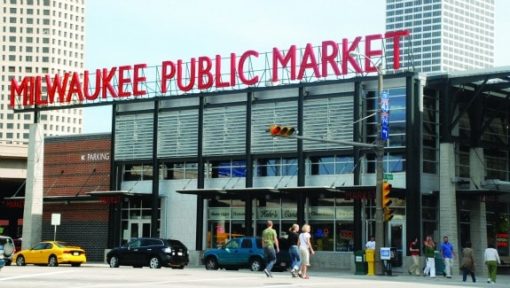 To get the true flavor of a city it is best to eat like the locals.  In Milwaukee, locals have been visiting the Historic Third Ward area for fresh and locally prepared food for over 100 years.   Within the Ward, the revitalized Milwaukee Public Market, boasts over 20 independent merchants  selling local, artisan and ethnic foods.  With so many options available in one spot, this seems the perfect stop for a food tour of Milwaukee.
The Cedarburg Coffee and Roastery offers the perfect pick me up for a chilly morning or slump in the afternoon.  Roasting the coffee beans on sight, I was surprised to learn how little time beans truly need to remain in a roaster to have that beautiful deep color and fragrant flavor.  Speaking of flavors, don't look for any here as the coffee roasters are purists, only fresh roasted beans, no fancy flavored brews.
At a nearby booth, shoppers will discover the Spice House offering up seasonings from around the world.  From Pink Himalayan Salt sold in blocks, to pure Vanilla from Mexico and Tahiti, Spice House pretty much has it all, in various shapes and sizes.  Most products have a sample jar for tasting like the locally grown, freeze dried sweet corn.  With a light and airy texture, but a crunchy sweet corn taste, this would make a great snack or topping for a salad.
Other vendors offered fresh sushi, sandwiches, soups, olive oils and aged Balsamic vinegar, as well as unique Wisconsin themed gifts and edible products.  For a true taste of Wisconsin, look no further than West Allis Cheese & Sausage Shoppe and a skewer of cheddar cheese curds and thin links of summer sausage!
Priding themselves in the freshest seafood in Milwaukee, St. Paul Fish Company was recommended to us by several locals.  St. Paul features a raw oyster bar, fresh seafood to prepare at home, and a full menu of options to savor in a small eating area, including the city's only $13.95 live Maine Lobster dinner.   I was given a sample of "Smoked Salmon Crack".  When I inquired about the name I was told it was because the Salmon cracks apart into thin strips.  After one taste, however, I can't stop thinking about it and am desperate to find more – similar I would imagine to another substance by the same name.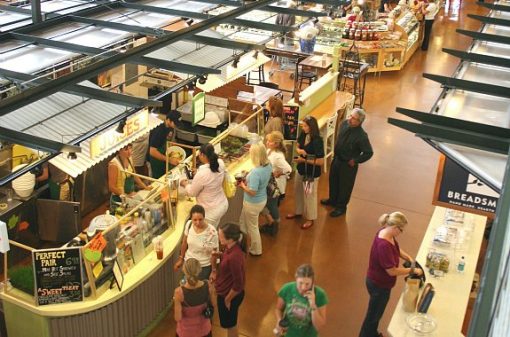 For years Nehring's Family Market has been a staple providing customers with a beautiful array of meats to prepare at home as well as a variety of side dishes, Italian specialties and sandwiches.  Not in the mood to cook?  Nehring's offer a selection of "hot, good to go" products daily.
Of course you can't forget dessert from Adam's Bakery with grab and go sweets like cookies, brownies and cupcakes as well as more formal pastries, pies and cakes.  Fans of the movie, Bridesmaids will recognize the center aisle chocolate and sweet shop, Kehr's Candies.  Selling a wide variety of of truffles, dipped chocolates, sweets and even poured chocolates shaped to resemble Milwaukee's famous Harley-Davidson, Kehr's proudly scoops another Milwaukee specialty, frozen custard.
Approaching the market we found a pay-parking lot adjacent to the building.  With a purchase and validated parking receipt, the first hour is free and a reduced rate exists for additional hours thereafter.  I am sure that it is this policy, as well as the delicious assortment of food, that brings so many businessmen to the market for lunch.  After the lunch rush, the clientele appeared to change to homemakers purchasing items for their dinner meals.  The latter group, a much more laid back crowd without time constraints, gave the Market a calmer atmosphere.  Visitors to the market wishing to explore at their leisure might want to keep this time schedule in mind.
While a few dining seats exist at some of the food venues,  additional spaces can be found on the upper level of the Market – especially handy I am sure during the long blustery months of winter.  Visitors will also find the office of the Public Market on the upper level.  Here customers can purchase Market Cards.  Similar to a gift card, loaded with a specific amount and accepted by all vendors, the cards offer convenience and a great way to stay on a budget.
Traveling with multiple family members, I fount this the perfect way for everyone to split up and purchase what they wanted to eat without the need to open my wallet each and every time.  At our final stop, we were able to use up the remaining balance.  A bit of advice however, if the market is busy, vendors may not be willing to combine several cards at once to pay a balance.
Location:  The Milwaukee Public Market is located at 400 N. Water Street, Milwaukee, Wisconsin
Hours:  Monday-Friday, 10 am-8 pm; Saturday 8 am-7 pm, Sunday 10 am-6 pm  (some vendors may be open additional hours as well as a seasonal outdoor market open on Saturday).
Photo Credits: Visit Milwaukee
Disclosure:  The author was a guest of Visit Milwaukee for the purpose of a review. The opinions expressed herein are her own and all editorial content is determined by the author and The Travelers Way.
As seen on:
Having been transplanted numerous times, I have learned to explore the sites around our new found hometown, uncovering hidden gems and attractions. When vacation time rolls around, I enjoy traveling with my family and the occasional weekend escape with my husband, coming home to share our travel experiences with others. You can follow me on Twitter @JAIngersoll. My top three destinations are Walt Disney World Resort, the Midwest and any beach I can walk along.