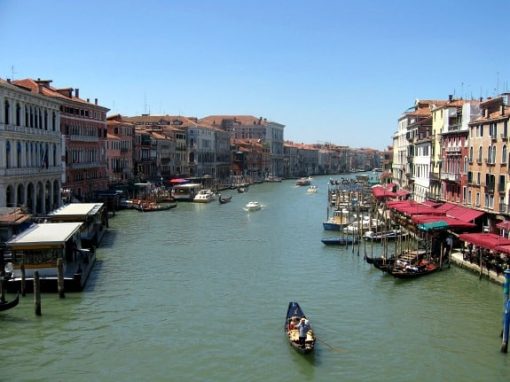 Can there be a more iconic experience of Venice than a ride in a gondola? For centuries this flat-bottomed boat was the primary means of transportation and moving goods within the city Venice, but today they are primarily used for sightseeing by visitors, weddings and funerals, and the occasional regatta.
So yes, riding on a gondola is a touristy thing to do – but that doesn't mean you should dismiss it out of hand. This quintessential experience can be relaxing, fun, and romantic. It will let you see the city from the water, and for a few minutes, let you imagine what the city was like in an earlier era.
The cheapest way to ride a gondola is also the quickest. For about a dollar (depending on exchange rates) you can take a traghetto, a sort of foot ferry shuttling people across the Grand Canal in areas where there are no bridges. The traghettos cross from seven different locations and hours of operation vary. Most of the traghettos cross between 6 am and 2 pm, but there are a couple than run as late as 8 pm.
Locals will know the schedules, but if you're relying on this as your primary transportation choice, be sure to line up those times and crossings. The crossing will generally take a minute or two. When you see a traghetto you may notice people standing, these are most likely locals; standing is not typically a choice for visitors.
For most visitors, though, a gondola ride is longer, slower, perhaps more romantic ride. Gondolas for hire can be found anywhere there's water – along the walkways, by the bridges, outside of hotels and cafes.
They are fairly similar to one another, with only a few variations when it comes to the interiors. Some are very austere with only a few plastic flowers. Others have more elaborate flowers and decorations, with velvet seats and beautiful rugs. A gondola will hold up to six passengers, and is rented out at flat charge.
The pricing was fairly consistent – about 80 Euros (approximately $115, depending on exchange rates) for about a 45 minute day time ride. If you want to reduce your cost, look for some like-minded visitors to share with. If you want to chat with your gondolier, or have a bit of narration with your ride, you may need to talk with a few to find one who speaks English. Although prices are fairly consistent, if it's a slow day (not often) you prices may be soft. Also, if you opt for some of the smaller waterways you may be able to negotiate a bit, although there will also be fewer gondolas available.
The romantic version of a gondola ride is at sunset or beneath the stars. Legend has it that if lovers kiss while on a gondola ride that passes beneath the Bridge of Sighs at sunset they will be granted everlasting love and bliss. With a legend like that it's no surprise that this is a popular gondola ride, despite the bridge and surrounding area being under construction and repair and presenting an uninspiring view. Even if you don't opt for the Bridge of Sighs, a starry, moonlit night can fuel the romantic inside of all of us.
A gondola ride in the evening will cost you a little more as well. The boat price goes up to about 100 Euros (approximately $145), and you most likely aren't going to want to share this romantic moment with strangers. There are only two seats in the gondola where you can sit side-by-side, with the others in a single file sort of spacing, so romance is a little tougher if you're sharing the boat. And if you think having that musician or singer on board is part of the experience? It's going to cost you another 100-150 Euros to hire one.
I visited Venice on a day trip, so opted for a motorboat ride instead of a gondola ride. If I was staying in the city, I'd definitely want an evening ride – and I really don't care if anyone thinks it's touristy. It just my little slice of heaven beneath the moon and the stars.
Photos: All from the author's personal collection
NOTE:  This article was originally published on Traveling with MJ; it is reprinted here with permission.
Mary Jo Manzanares is a founder and the editor-in-chief of The Traveler's Way, an online travel magazine proving informational and inspirational travel recommendations for curious Baby Boomer travelers. She has been a speaker at various industry events and has a personal travel blog at Traveling with MJ. When she's not traveling, Mary Jo likes lingering over a cup of coffee, wandering in a museum, sipping wine at a cafe, and sharing it all with friends and readers. Mary Jo's top travel destinations are Italy, Portugal, and the Caribbean.