There are several reasons to sail from New Orleans on your next Caribbean cruise. First, it's New Orleans – with all its mystery, architectural beauty, historic attractions, and fabulous dining opportunities – and a wonderful place to stay for a few extra days before or after your cruise. Then, there's the ease of embarkation day and disembarking the ship after the cruise. The Port of New Orleans is organized and efficient, which means your wait time for security, check-in, and boarding the ship are minimal. There's also a large seating area if, for some reason, wait time to board the ship becomes an issue and you need space to sit and relax.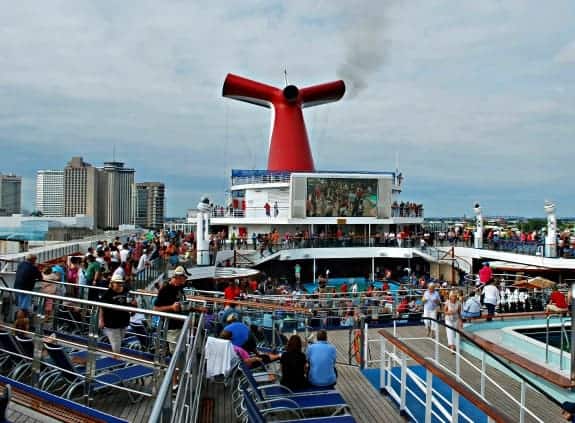 So what's the best way to make cruising from New Orleans easy? With a pre-cruise hotel stay and parking package. I recently booked this package before sailing on the Carnival Conquest, and it was easy, practical, saved lots of money, and made for a value luxury experience.
By arriving in the Big Easy the day before the cruise, you have the opportunity to enjoy all that New Orleans has to offer. Additionally, if you're flying in, arriving a day early takes all the pressure off worrying about flight and weather delays, missed connections, or any of the other air travel complications that can delay a flight.
I checked into the Holiday Inn Downtown Superdome (330 Loyola Avenue, New Orleans), and then headed out for some sightseeing. Bourbon Street is a short taxi ride away (about a $10 fare), landing you right in the heart of the French Quarter and a perfect start to an afternoon of exploring.
Another option is City Sightseeing hop-on, hop-off bus tour (one-day ticket: $29 for adults; $10 for children), with stops in the Garden District, Arts District, Central Business District and the French Quarter. Bus stops are close to popular attractions along the way including Jackson Square, Café du Monde, the French Market, Audubon Aquarium of the Americas, Audubon Butterfly Garden and Insectarium, Mardi Gras World, St. Louis Cemetery #1, Louisiana Children's Museum, and the National WWII Museum. As it names implies, you can hop on and off the bus at any (or all) of the stops for the price of a one-day ticket. You can cover a lot of ground with this option, a value for anyone wanting to see a lot of places without worrying about cab fare. The bus has stops at hotels around the area, so check with your hotel for the nearest pick up to where you are staying.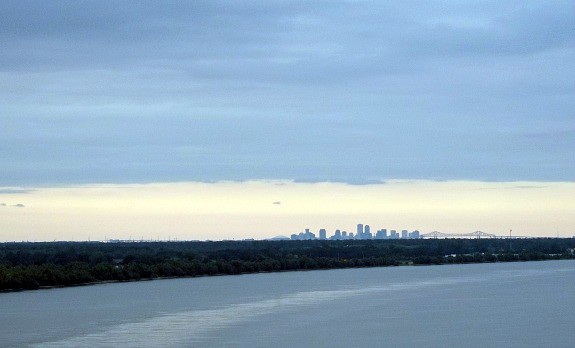 The morning of your cruise departure, passengers will be told to meet in front of the hotel for a shuttle to the Port of New Orleans. Luggage is loaded on the shuttle and this is the last time you need to worry about it on your cruise. Once at the port, sea-caps take over and make sure that your luggage arrives at your stateroom.
The Port of New Orleans was re-built after Hurricane Katrina and is spacious, efficient, and easy to navigate. After airport-style security checks of my carry-on luggage, I received my sign and sail card (stateroom key and on-board credit card linked to a major credit card, debit card, or cash) and, after having a Bon Voyage photo taken, I was given a number and instructed to have a seat.
Soon my number was called. I queued up, had another photo taken for security purposes, and was on the ship before noon.
Lunch was being served on the Lido Deck upon boarding, so there's no need to have a big breakfast if you plan to arrive at the port in the morning. Several buffet lines were set up with a wide variety of options, so you can enjoy a bite to eat while waiting for your stateroom to be ready. By 12:30 my stateroom was available, not a long wait at all.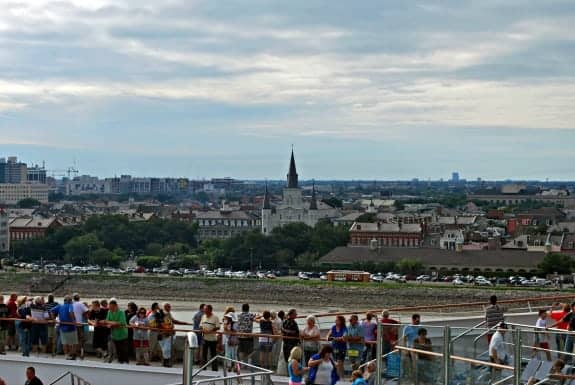 Fast forward through seven heavenly days at sea, beautiful ports of call, and delicious dining experiences onboard the Carnival Conquest.  Eventually, though, it was time to leave the ship, and after an orderly disembarkation process, I found a sea-cap to help with my luggage and hail a taxi. Once back at the hotel (about a $14 cab fare), with bags unloaded from the cab, I took the elevator to get my car, then drove around to pick up the bags and headed for home.
The hotel package option make cruising from New Orleans easy – no stress, no drama, no waiting, and no expensive parking charges at the Port of New Orleans.
Port of New Orleans Cruise Packages
The Holiday Inn Downtown – Superdome Cruise Package includes a pre-cruise room, free parking and free transportation to the cruise terminal. There is no pick-up after the cruise, but catching a taxi is a lot less stressful than finding a shuttle.
The package I booked offered rooms starting at $20 over the best rate available room rate ($110 to $185); on weekends rates are $25 over the best available rate. Compare that with the charge for parking at the Port of New Orleans ($16 per day), the convenience of leaving the driving and navigation to someone else, avoiding the stress of New Orleans traffic, having assistance with your luggage, AND the ability to have a fun filled day in New Orleans before your cruise, and it all adds up to a value luxury experience.
Additional value added features at the Holiday Inn include complimentary high-speed wireless internet,  and in-room microwaves and refrigerators. There is a 24-hour fitness center, rooftop pool and sundeck, guest laundry, and 24-hour business center. It is a smoke-free property.
When searching online on calling the hotel, look for park-and-cruise package rates. In addition to the night before the cruise, specials are available for overnight accommodations after the cruise as well.
Disclosure: This trip was sponsored, in part, by the New Orleans Convention and Visitors Bureau and their partners.
Photo credit:  Courtesy of Marilyn Jones
Author bio:  Marilyn Jones has been a journalist and photographer for more than 30 years. Specializing in travel and features, her articles have appeared in major newspapers and magazines, and on several websites. She is the mother of three grown children, lives in East Texas, and, in addition to traveling and writing, enjoys gardening and scrapbooking.
The Travelers Way occasionally accepts guest posts from fellow travel bloggers, friends within the travel industry, and as advertorial content.