Lisbon is one of the oldest cities in the world, even older than Rome, Paris, and London (by a couple hundred years). Often overshadowed by those well known capital cities, Lisbon provides travelers with a much less expensive travel experience, offering wide choices for value luxury priced hotel, food, and sightseeing. And with the airport located in the city, Portugal is an easy international destination from the United States.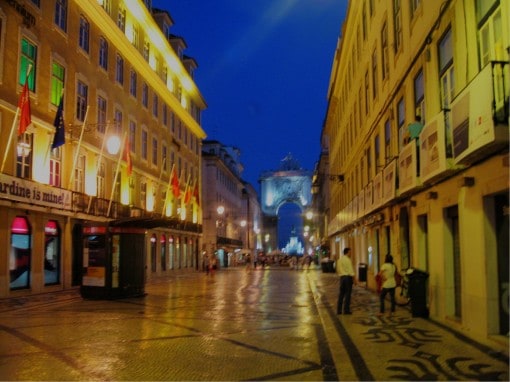 Two UNESCO World Heritage sites are located in Lisbon, the Belem Tower and the Jeronimos Monastery. The Tower is located on the water in Belem, and the monastery a short walk away. Visiting both in an afternoon is an easy choice, and then stop for a pastel de nata for an afternoon snack. Pastels de nata, also called pastels de Belem, are a delicious Portuguese egg tart pastry found throughout Lisbon.
After the shops are closed for the day, the streets once again become crowded, this time with people meeting up for dinner (a late night affair, like much of Europe) or a glass of vino tinto. While it's possible to find a quiet street, like the one above, it won't be for long, as nightlife in Lisbon continues into the very wee hours.