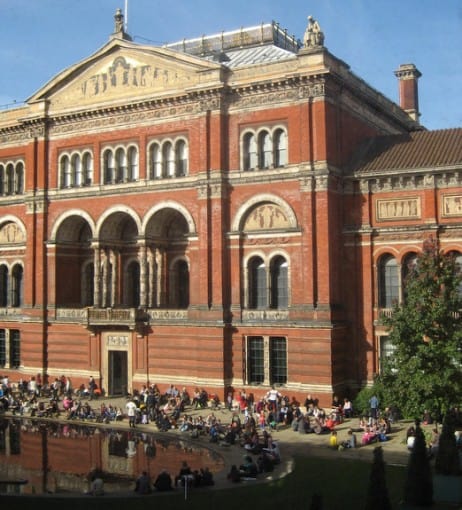 Despite several journeys to London, I kept displacing a trip to the Victoria and Albert Museum with other tourist options. This fall, however, I finally got around to checking it out. I'm sure glad I did.  The museum was so fun that I plan to go back on my next London trip.
Here are some tips for making the most of your visit:
First of all, people rarely call London's Victoria and Albert Museum by its full name, since V&A rolls off the tongue so easily. (I've also seen it referred to as VAM, but only in print.) Whatever you choose to call it, it's best to make a full day of your visit since there is so much to see.
What to see
The V&A doesn't bill itself as, "the world's largest museum of art and design," for nothing. With seven miles of galleries and 145 separate exhibits to choose from, you need a strategy for navigating the place. Thankfully, the museum hands out free maps right by the entrance.
I suggest skimming that free map, then heading straight for the gallery that sounds most appealing to you. If you have your heart set on seeing the jewelry collection (or jewellery as the Brits call it) it could take hours to get there if you browse along the way.
In fact, it the length of your stay in London allows, you may wish to return for a second or third visit. Admission is free, so you'll always get your money's worth. Some folks even bring sketchpads and folding chairs to the V&A so they can practice their drawing skills while surrounded by great art.
Unlike some museums, there are no specific must see items at the V&A. What makes this great is how it keeps visitors dispersed evenly throughout the exhibits rather than crowded around one particular hot exhibit. On the day I visited, the entryway was jammed with people, and I braced myself for cramped conditions. Once inside, however, the huge building easily accommodated us, as visitors wandered off in all directions. (The exceptions to this were the gift shop, and the traveling exhibit, for which we stood in line for a solid ten minutes.)
5000 years of human history
What I find most impressive about the Victoria and Albert Museum is the vastness of its collections, which span a 5000 year range of history. I enjoyed wandering through its huge hallways of marble statuary, and viewing ancient columns and Medieval art.
While I expected the old stuff, what surprised me was the curation of modern items such as 20th century haute couture and rock and roll music. There's a section devoted to the Rhino record label, for instance, as well as the Annie Lennox House, which offers a fascinating glimpse into that rock and roll diva's creative process. I got a kick out the stage costume collection, too, and was stunned to see the petite outfits worn by Led Zeppelin's larger-than-life guitarist Jimmy Page.
I've since learned that the V&A was the first British museum to host a rock concert back in 1973, and is diligent in its efforts to engage people from all backgrounds. In fact, from its beginnings back in 1852, the museum offered evening hours so that working class people could visit during their free time. Even today, the museum stays open until 10 p.m. on Fridays.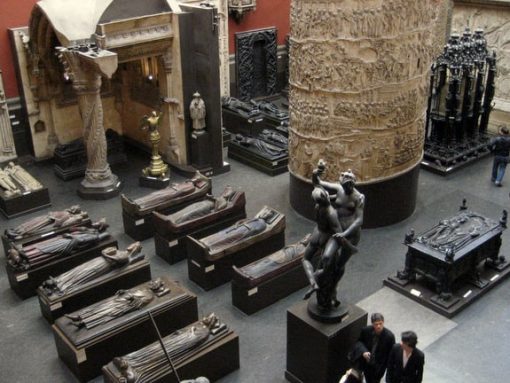 Children's activities
For those traveling with little ones, the museum offers free activity backpacks for kids to borrow during their visit. These packs are full of puzzles, games and other projects related to V&A museum exhibits. Even without the activity backpacks, many museum sections include hands-on activities, such as costumes for playing dress up.
Dining options
Lunch at the Victoria and Albert Museum is a charming experience thanks to three ornately decorated dining rooms and a delightful outdoor courtyard with a wading pond. My sandwich and salad were reasonably priced and surprisingly good. Plus, in this land of tea drinkers, I did not expect to find such good espresso, so that was an added bonus.
Location
The V&A is located near the Natural History and Science Museums in a section of Chelsea and Kensington which is sometimes referred to as Albertopolis. While the term originated as a snarky jab at Prince Albert's role in promoting Victorian culture, it is now used to highlight the concentration of historic Victorian buildings in this part of London.
Hours of operation
The V&A is open daily from 10 a.m. until 5:45 p.m. Each Friday, it remains open until 10:00 p.m. The museum is closed on the 24th, 25th, and 26th of December.
Getting there
The Victoria and Albert Museum is a short walk from the South Kensington tube station. A tiled tunnel beneath Exhibition Road also connects this station to the Victoria and Albert Museum.
Photo credits: Courtesy of author
Tui Snider is passionate about exploring the world, and loves sharing what she finds at home and beyond in her travel writing and photos. You can find her online at Discovering-Dallas-Fort-Worth.com, mentalmosaic.com/blog and on Twitter @mentalmosaic. Her top three travel destinations are Italy, London and anywhere a cruise ship will take her.