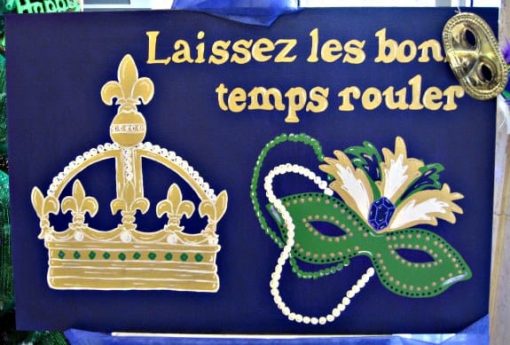 In the midst of making holiday plans – Thanksgiving, Christmas, and New Years are right around the corner – you might also start thinking about plans for another holiday.  Equally full of fun and excitement, Mardi Gras can be a fun, and family friendly experience.  I had long wanted to experience Mardi Gras, but felt I was too old for the all night partying and drinking of New Orleans.  So year after year slipped by, with still no Mardi Gras fun, until this past year when I was invited to Shreveport's to experience a family friendly Mardi Gras on the "other side" of Louisiana.
First, let's clear up a few thing.  The area is more properly referred to as Shreveport-Bossier City, the two sister cities sharing a river and commonality that makes them nearly indivisible.  Located in  the northwest corner of Louisiana, about 20 miles east of Texas and 35 miles south of Arkansas, Shreveport-Bossier boasts a wide open Texas-style spirit mixed together with a little spicy Cajun attitude.  They have river boat casino gambling, a horseracing track, shopping and dining on the Louisiana Boardwalk, plenty of museums and music venue, and a family-friendly Mardi Gras celebration.
So what about that Mardi Gras celebration?
The official launch of Mardi Gras is the Twelve Night celebration (January 7th, 2012) where the various krewes present their royalty and the party season gets underway.  What follows is weeks of events, from individual parties and appearances to the parades and balls.  Each event has its own character, from fun and funky to elegant and posh, and if you attend everything (as the krewe royalty must do), you'll be eating and drinking so much you'll be begging for Lent to arrive.  For visitors, that's a long span of time to search for the events and activities that most interest you and plan your visit.
Getting Settled In
If you arrive by air, you'll touch down at the Shreveport Regional Airport (SHV) and the head off to your hotel to get settled in.  There are hotels, motels, and bed and breakfasts in nearly every price range, so finding something will be a matter of budget, location, and personal preferences.  I stayed at the Hilton Shreveport (104 Market Street), perfectly located in the heart of downtown's Riverfront District.  (It's also attached to the Convention Center, an important consideration if you're here on business.)
After you've settled in, take a little while to explore the area and get your bearings.  If you're feeling lucky, head to one of the riverboat casinos (a couple blocks away), or just shake the cobwebs out, get a quick bite to eat, and map out your Mardi Gras strategy.
The History
Start your Mardi Gras experience off with a little history and some eye popping costumes and decorations at the Krewe of Gemini Mardi Gras Museum (2101 East Texas Street, Bossier City).  The word "krewe" is merely a Old English word that is a generic term for a Mardi Gras group or organization.  Its use dates back to the late 1800s and is still used today.  The head of a Krewe is called the Captain, an elected position that carries tremendous organizational and community responsibility.
Visiting the museum is a bit of an OMG experience!  With over 10,000 square feet of space, this is an amazing display of more than a decade Mardi Gras costumes and history.  And you can see them up close and personal.  All those costumes are dazzling, but the headdresses alone can weigh as much as 50 pounds.  All those sequins, jewels, feathers, and glitz can add up to a lot of pounds, making for a very long day or evening when worn.
The hosts at the museums are dedicated fans of Mardi Gras and are eager to share information about what you're looking at.  It's an expensive proposition to be a King and Queen, Prince or Princess, Governor, Captain, or any of the other royal positions.  Those costumes costs thousands and thousands of dollars, and you are required to buy your own beads as well.  The King and Queen are required to travel to visit other krewes laden with gifts, appear in the various krewe parades, and make a variety of community appearances.  It's about the season and the parties, to be sure, but the community responsibilities last well past the season.
If you visit during parade time, you can walk next door to the float preparation area.  It's an eye opening experience watching how the floats are put together and beads are loaded up.  There are lots of beads on these float.  And I mean lots.  As in LOTS!  I had no idea what to expect, but this loading up and stocking up beads happens before every parade.  Although, perhaps, for the krewe's own parade there is a little lagniappe.  The parade prep area is full of activity, but it's also a time for family fun and photo opportunities.
The Parades
After learning a little history of the event, and seeing the preparation involved, it's show time!  Most krewes have their own parade, so there are plenty to choose from, ranging from the larger, more splashy evening parades (Krewe of Centaur and Krewe of Gemini) down to the smaller specialized, neighborhood parades like the Krewe of Highlands or the Krewe of Barkus and Meoux (for pets).
For the big evening parades, I recommend getting to the parade route a little early to walk the loading area for some pre-parade float viewing and photos.  Then pick your spot, settle in, and get ready to shout out, "Throw me something, Mister!"  Over the course of the season millions of bead will be thrown to people who line the parade route.  From beads in the traditional Mardi Gras colors  of purple, gold, and green (signifying justice, power, and faith) to multicolored strings and specialized throws, you'll overcome your reluctance and be yelling for beads right along with the rest of the crowds.  I didn't at first, but by the end of the parade was sporting more than my fair share.
And here in Shreveport-Bossier, there's no baring of bodies required to get those throws.  While there was plenty of adult beverages around the parade area, the vibe is still decidedly family friendly, and there were lots of kids yelling for those throws right along with me.
The Bals
From formal to-dos with tuxedoed men and gowned women to themed galas to simple block parties, nearly every krewe has a bal.  And yes, that spelled with only one L.  Invitations may be restricted to members of the krewe and their invited guests or they may be open to the public for the purchase of a ticket.  If you'll be there for Mardi Gras a little advance research will help you find what bals will occur while you're in town and the best way to secure tickets.
I attended the Krewe of Highlands Bals with it theme of "Every Family Has a Freak & Every Freak Has a Family" with music by classic disco band, Le Freak.  I twas both what I expect, yet nothing at all like I expected.  All the guests were costumed and/or masked, there was live music and drink everywhere you turned.  There was something going on EVERYWHERE.  I put on a party dress, brought along my mask, and before I knew it, I was laughing and dancing with strangers.  It was loud and crowded, and definitely not my typical Saturday night entertainment.  But it was a ton of fun.  And it will be something that I talk about for a long time.
The Food and Beverage
It is Louisiana, after all, so you know there's going to be plenty of good food and drink everywhere you turn.
For light dining and snacks try King Cake at Julie Anne's Bakery & Café (825 Kings Hwy, Shreveport) or a muffy sandwich (in photo above) at Fertitta's Delicatessen (1124 Fairfield Avenue, Shreveport).  For fine dining try Ristorante Giuseppe (4800 A Line Avenue, Shreveport) or Jack Binion's Steak House at the Horseshoe Casino & Hotel (711 Horseshoe Blvd, Bossier City).  And for something in between, there's cajun cuisine at Shane's (9176 Mansfield Road, Shreveport) or Texas Street Steak House (3015 E. Texas Street, Bossier City).
You'll also find drive through daiquiris.  Yep, that's right.  Drive through, get your booze, and be on your way.  I put this in an "only in Louisiana" category, and it's basically a fruit slushy with a healthy shot of alcohol, but you still have to give it a try.  I had the drive through experience at Cajun Daiquiris (3306 Youree Drive, Shreveport).  There are all sorts of flavors with catchy names handwritten on the menu.  Ask for help if you can't make up your mind, and if you're just not thirsty, you can always try one of the jello shots.  Daily happy hours (noon-1 and 4-7 pm, 2-5 pm on Sunday) means these frozen alcohol concoctions are 2 for 1.  Daiquiris come in four sizes, small, medium, large, and gallon.  Louisiana does have an open container law, which is why your daiquiri comes in a styrofoam cup with the straw hole tape closed.  Voila – alcohol legally good to-go.  No drinking and driving, though, you'll just need to wait till you pull over somewhere because drinking in public is just fine.  I can't explain the attraction; just do it.  I did, and I'd go back.
The End
It all comes to a halt on Fat Tuesday, the literal translation of Mardi Gras. The festivities end with the final parade – the Krewe of Aesclepius children's parade, and a variety of other celebrations around the city.  At 11:30 pm, just in time to finish up for the first official minute of Lent, the bridge closing ceremony is held on the Texas Street Bridge.
And just like that, with a veritable snap of the fingers, Mardi Gras is over and Ash Wednesday has begun.  No more partying and carrying on, it's time for fasting and religious rituals.  But don't worry, it will all be back again next year.
As they say in Louisiana, "Laissez les bons temps rouler" (let the good times roll)!
Photo credits:  Courtesy of Mary Jo Manzanares
NOTE:  My visit to Shreveport was part of a sponsored press trip.  The fun, laughter. . . and beads. . . were all my own.
Mary Jo Manzanares is a founder and the editor-in-chief of The Traveler's Way, an online travel magazine proving informational and inspirational travel recommendations for curious Baby Boomer travelers. She has been a speaker at various industry events and has a personal travel blog at Traveling with MJ. When she's not traveling, Mary Jo likes lingering over a cup of coffee, wandering in a museum, sipping wine at a cafe, and sharing it all with friends and readers. Mary Jo's top travel destinations are Italy, Portugal, and the Caribbean.