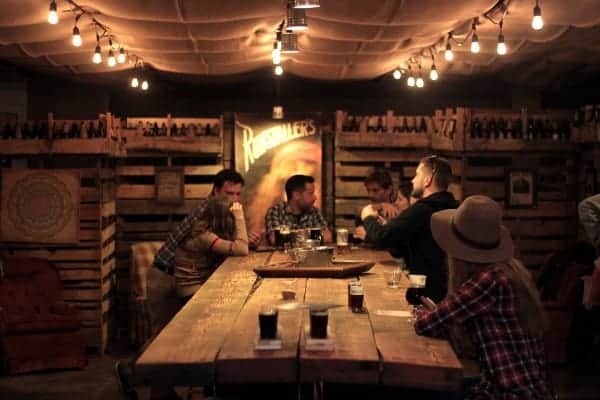 Once home to the largest craft brewery in the Golden State, Sacramento's beer scene is back – in a big way. Home to more than 40 breweries, the Sacramento region is embracing its agricultural roots to create homegrown beers that are quickly attracting international attention.  Beyond a staggering selection of local brews to choose from, Sacramento visitors will find some of the country's best beer events and activities that are sure to quench their thirst.
History
Prior to prohibition, Sacramento was the beer capital of the West.  The region's abundant fresh water supply, coupled with ideal growing conditions for California's first hops fields, led to more than 16 breweries in the city's downtown alone. Chief among them was Buffalo Brewing Company, the largest brewery west of the Mississippi River. Captain Frank Ruhstaller was a leader in Sacramento's beer production, helping to found several breweries including his namesake, Ruhstaller Brewery.
Prohibition came, and the land formerly used to grow hops was converted to other crops. These crops can still be found throughout the region's farmland today, including almonds, pears, tomatoes and rice.
The Return of Sacramento's Beer Scene
Today's Sacramento beer scene is vibrant, and craft brew tasting rooms are scattered throughout the city's downtown and Midtown core, and across the region.
Stalwart Sacramento breweries such as River City Brewing and Rubicon Brewing Company have been around for more than a decade, and they're still going strong as new breweries join the scene. Over the past five years, beer makers such as Track 7 and Bike Dog have added to mix, while Ruhstaller Beer (tap room shown in photo above), and New Helvetia Brewing Company have also opened, paying homage to Sacramento's rich brewing past.
Hops-to-Pint
Captain Ruhstaller's legacy can still be seen today in the region's remerging brew scene, with a new iteration of Ruhstaller returning to Sacramento in 2013.
The modern day Ruhstaller's founder J-E Paino established a hops farm and yard in 2013 just outside of the city, and brews his beer locally. During harvest season, beer fans can tour the farm and see how the growing hops go on to become of the region's most popular brews. And Ruhstaller's fan base extends well beyond the Sacramento region, with distribution of its brews extending as far as the United Kingdom.
Beer Events
It's no surprise that the Sacramento region is also home to some of the country's best beer events.  From the annual Sacramento Beer & Chili Festival, to our own "Sactoberfest," there's always something beer-related on the Sacramento region's calendar.
In March, beer fans flock to Sacramento for Beer Week – a non-stop, city-wide party designed to showcase the region's brews. Run by the Northern California Brewers Guild, Sacramento Beer Week is an 11-day celebration boasting everything from beer and food pairings to a festival on Capitol Mall with breweries from all over the state and beyond.
Coming to Sacramento in 2015 is the first annual California Craft Beer Summit and Showcase, hosted by the California Craft Brewers Association. The new event, open to both the industry and the public, will be the first time craft beer enthusiasts can come together in the same room with the master brewers to see, touch, taste and learn the process of creating craft beers.
Sacramento's food scene hits fever pitch in September during the annual Farm-to-Fork Celebration, a two-week event designed to highlight the region's robust agriculture and fresh-food scene. A favorite attraction during the Celebration is the Farm-to-Fork Festival (September 26th, 2015), a massive outdoor faire held on the city's Capitol Mall featuring booths and interactive exhibits from farms, restaurants, grocers and more. As one would expect, food and drink take center stage at the Farm-to-Fork Festival, and beer is a main attraction. The Festival boasts a packed brewer's alley that showcases beers from across the region, and many of the 20,000+ attendees head straight for the alley to get a glass of their favorite ale to enjoy while checking out the Festival.
Beer Activities
Beer-enthusiasts can do more than just sip their pints in Sacramento; the region offers a host of activities that showcase the region's brew scene.
Thirsty fans can tour the region's breweries and pedal for their pints aboard Sac Brewbike, a newer addition to the city. Or, you can sit back and sip your craft brew aboard the Sacramento Beer Train, which takes travelers along the rails through rural West Sacramento.
Restaurants across the region also offer monthly beer pairing dinners, providing beer fans with a chance to sample the region's unbeatable cuisine and fantastic local brews.
Still, nothing beats touring where the beer is crafted, and Sacramento offers a vast array of tour options, from small craft breweries, to the Budweiser factory just outside of the city.
Hotel packages are available throughout the year, and more information on the region's beer offerings can be found here.
Photo credit:  Courtesy of Sacramento CVB (via TravMedia)
Mary Jo Manzanares is a founder and the editor-in-chief of The Traveler's Way, an online travel magazine proving informational and inspirational travel recommendations for curious Baby Boomer travelers. She has been a speaker at various industry events and has a personal travel blog at Traveling with MJ. When she's not traveling, Mary Jo likes lingering over a cup of coffee, wandering in a museum, sipping wine at a cafe, and sharing it all with friends and readers. Mary Jo's top travel destinations are Italy, Portugal, and the Caribbean.