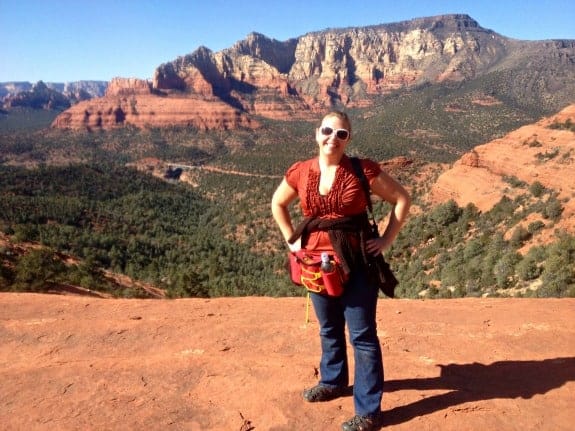 Considered one of the great natural spiritual landmarks of the world, Sedona, Arizona, has long hosted spiritual questers and seekers. People come here "in search of." They listen for the voice of their own soul, they seek out the voice of God. They hope to find direction, clarity, peace and meaning, surrounded by what is said to be high vibrational energy of the landscape.
The natural landscape is made up of jutting red rock, created by millions of years of sediment, water and wind. While the people of Sedona don't all share the same spiritual convictions, most believe in something mystical or spiritual. The otherworldly landscape serves as evidence. The city is ripe with churches of all faith walks. Along Oak Creek carnes, stone prayer alters, are erected by those passing by. It isn't unusual to stumble upon a meditator while hiking. Conversations regularly delve into the spiritual. Someone might comment on your aura or your energy in casual conversation.
The City of Sedona has capitalized on its spiritual reputation. There is the typical tourist strip mall where travelers can buy crystals and rocks. They can sift through catalogs at mystical, tourist-targeted stores, choosing their favorite psychic, palm reader or tarot card reader. They can get hot stone massages and take courses in various aspects of the occult.
I went to Sedona seeking the voice of my own Soul. I found myself newly divorced, shaken by 2012 and my 40th birthday was hot on my tail. If there was ever a time to change course in my life, this fork in the road was it. I've committed to saying yes to everything my Soul wants me to do. I'm calling my experiment The Year of Yes! My Soul led me to SpiritQuest, a spiritual tour company in Sedona.
SpiritQuest Sedona
I wasn't feeling touristy; I was longing for a deeper spiritual experience. I explained my situation to Ed and Kat over dinner:  the end of a 12-year marriage, the reinvention of our family structure, the fear and anxiety that had engulfed me in 2012, the broken shoulder and subsequent physical rehabilitation and my need to rest, heal and regroup. In the face of all of that, by the time I got to Sedona I was full of hope, optimism and open to the possibilities that lay before me for this new chapter in my life.
In contrast to the typical Sedona vacation, SpiritQuest owners Ed and Katherine Preston design an authentic spiritual experience based on a questionnaire and consultation calls, creating and itinerary of spiritually oriented sessions with the best practitioners in Sedona. Ed and Kat designed a retreat specifically for me and my needs. They tuned into my own spiritual quest and belief system. They matched me with the practitioners they felt would help me the most and hosted me in Juniper House, a residential home where retreat participants can nest in between practitioner sessions.
It was good medicine. I surrendered completely to the hands-on healing and energy work, which allowed me to release old feelings and attachments. I spent time opening up my creative expression chakras, components of the mind, body, spirit connection. I experienced profound visions and visualizations during meditation sessions. In Sedona my mind was easily stilled. My experience changed me. By the time I returned home from my weeklong retreat, a week where I was blessedly free of demands and responsibility, I had let go of my fears of the future.
Along with Juniper House, SpiritQuest can arrange private accommodations at local resorts and hotels, with a good selection from all budget ranges. The customized retreats can run from a long weekend up to a couple months. Retreat prices vary based on length of stay, number of practitioner sessions, and type of accommodations. In addition to the cost of the retreat services and accommodations, visitors should expect to pay for transportation, food expenses, and rental car fees.
Spiritual sessions might include a releasing and claiming ceremony; massage and other hands-on healing modalities; chakra clearing sessions which involve sound, healing touch, visualizations, color therapy and symbolic rituals; relationship counseling and life coaching; meditation instruction; private yoga classes; Shamanic experiences; and experiences out on The Land.
Participants are encouraged to eat cleanly during their retreat, which is easy in Sedona as local restaurants offer a good selection of gluten-free, vegetarian, raw, organic and vegan dining options.
I'd recommend a couple places that became my favorite stops:  Crystal Magic is a mystical store with an enormous selection of crystals and other spiritual paraphernalia. Allow plenty of time for browsing. My favorite restaurant was Thai Spices Natural Restaurant. I went back daily for what is probably the best bowl of Tom Yum the I have ever tasted. And at only $5 it was a bargain.
SpiritQuest is not a good fit for those interested in a Spiritual Disneyland. This is a deep and authentic spiritual tourism experience designed for individual spiritual growth and healing. I highly recommend it.
If you aren't ready for something quite so intense, however, you might enjoy a  Pink Jeep Tour to see the famed "vortexes," centers of energy which are said to have heightened spiritual vibrations. Helicopter tours will also sweep adventurers over the valleys and peaks for a bird's-eye view of The Land.
NOTE: While the author was given a complimentary visit for the purpose of a review, the opinions expressed are strictly her own.
Photo credit:  Courtesy of Tracee Sioux
Tracee Sioux is the Spiritual Travel Columnist for Bella Spark Magazine an Authentic Power Life Coach helping people attract miracles and manifest magic, author of Love Distortion: Belle, Battered Codependent and Other Love Stories; and blogs at TheGirlRevolution.com. Contact her at traceesioux@gmail.com.
The Travelers Way occasionally accepts guest posts from fellow travel bloggers, friends within the travel industry, and as advertorial content.