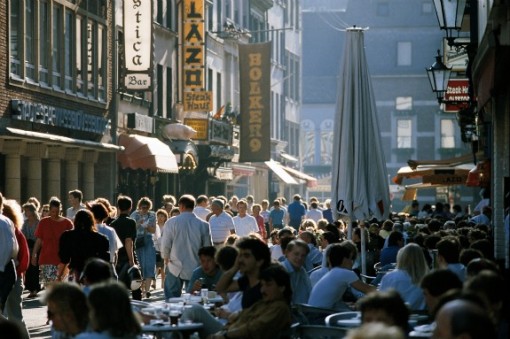 Many cities have monikers to be proud of, but Dusseldorf residents are especially proud of their designation:  The Longest Bar in the World.  After all, in Germany beer is the equivalent of drinking wine in France or tea in Asia.
The Longest Bar is actually a designation given to Altstadt, a section of the city's old town where visitors and locals can choose between as many as 300 bars and discos within a one-half square mile radius.
Located on the Rhine River, Dusseldorf was once a sleepy fishing village.  These days it has 800 years of history and if you're drinking in Altstadt you might be following in the footsteps of the likes of famous visitors including Napoleon, Goethe, and the poet Heinrich Heine. You'll probably want to think about your delicious German food options as you're planning your evening.
The Longest Bar:  How to Choose
Located along the street called Ratinger Straße the bars in Altstadt are notorious for serving the local Dusseldorf brew, Altbier.  Often just called Alt, this is a dark, top-fermented beer normally brewed with a variety of barley and hops.  The color can be anywhere from copper to a deep dark brown depending on the quantity of malt used.  Alt is brewed from an old recipe and since the late 1800s it has only been brewed in a few places in the world.  Lucky you since you've come to the right place.
The brewery and restaurant called Brauerei Zum Schiffchen tops the list of ale houses to visit in Altstadt and also doubles as the oldest restaurant in Dusseldorf. It tops the original chart in all areas from the atmosphere to the furniture to the blue-aproned "Köbesse" or waiters.  Napoleon was a patron here and likely ate something off the same menu you get today with typical Düsseldorf and Rhineland dishes served daily.
Details:  Hafenstraße 5 – 40213 Düsseldorf.  Open from 11:30 a.m. to midnight.
Zum Uerige is located on a busy corner in Altstadt and while beer is the norm here, you can also order bar food if you wish.  Don't consider ordering anything other to drink other than beer though or the wait staff will give you a hard time.  Zum Uerige is one of the most well-known pubs in Germany and it's a classic.  When you walk in the door you'll see a stained glass window with old scenes from Germany alongside carved wooden panels.  A taproom is also on display.   You can tell this place is an oldie because the wood is stained from years of spitting, drinking and smoking. Outside seating runs along the side of the pub with standup tables for a quick drink or tables and benches if you want to stay awhile.  This pub also produces wheat beer, but the alt is the big seller here.
Details:  Bergstraße 1 – 40213 Düsseldorf.  Open from 11 a.m. to midnight.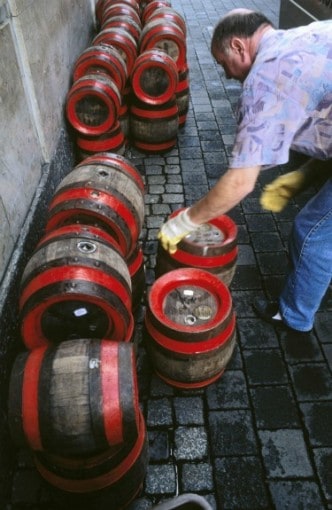 Kreuzherreneck is just a tiny corner pub serving no food, but you can get your fair share of ale.  There are only two tables in this tiny establishment and several bar stools, but don't let that stop you.  On the upside there is live music and you can always stand outside and mingle since the place is open until the wee hours of the morning on the weekends.  Typical German pub décor abounds with wooden all around and a tile floor, but the beer's the thing here not the design.
Details:  Altestadt 14 – 40213 Düsseldorf.  Open Sunday to Thursday 5 p.m. to 1 a.m. and Friday and Saturday till 5 a.m.
Brauerei Zur Uel was formerly a brewery and it still touts big wooden tables located in one big room for drinking.  Bar food is served, but Brauerei Zur Uel has taken a turn and instead of pulling in the local drinkers and visitors it has gone for the younger drinking crowd.  Once home to the Düssel Alt, now you won't find it here.  It's only Füchschen on the menu nowadays, which can also be found in a number of neighboring Altstadt pubs too.
Details:  Ratingerstraße 16 – 40213 Düsseldorf.  Open Monday to Saturday from 9 a.m. to 4 a.m. and Sunday from 10 a.m. to 1 p.m.
A good old German pub-brewery that delights locals and visitors, Brauerei im Füchschen boasts that German wood again that is seen in so many of the brew houses in the country and you can get a firsthand look at the taproom while sitting around barrel tables.  Further back there is more room to drink with friends at the larger tables and the beer on order is the Düsseldorf altbier.  You can get snacks or even a meal here and on warm weather days there is a beer garden located out back.
Details:  Ratingerstraße 28 – 40213 Düsseldorf.   Open Monday to Thursday 9 a.m. to 1 a.m., Friday and Saturday till 2 a.m., and till midnight.
How do I find Altstadt
To get to Altstadt from the airport, take a commuter train to the Dusseldorf HBF, then transfer to the Heinrich-Heine-Allee metro stop. If you're already in the City Center area Dusseldorf find a map and head to old town; Dusseldorf is an extremely walkable city.
Photo credit:  Courtesy of Düsseldorf Marketing & Tourismus GmbH
Rita Cook is a writer/editor with over 1000 articles. She can be heard on Insider Mag Radio at KPRO 1570 am and she also reviews cars for the Washington Times Communities (Behind the Wheel). Her most recent published books include "A Brief History of Fort Worth" as well as two haunted books on Dallas and Fort Worth to be published in the fall 2011. Rita's favorite travel destinations are Italy, India and Kenya.