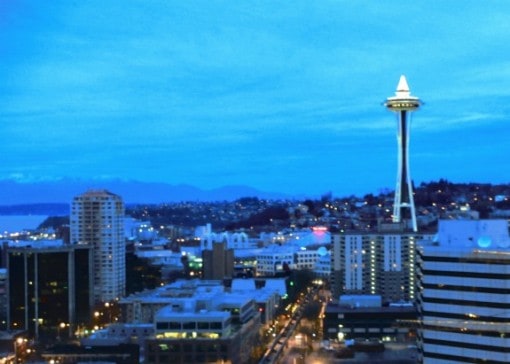 If you live in the Pacific Northwest you likely already know why those living in other parts of the United States flock to your region. From Washington to Oregon to Northern California, the Northwest boasts varying landscapes that suit every travel personality. So whether you're looking for mountains, the ocean, wine country or an urban exploration to rival East Coast meccas such as New York City and Chicago, the Pacific Northwest has got you covered. And the best part is, you don't have to spend a lot of money to enjoy all that the Northwest has to offer!
Washington
Seattle – Whatever your taste, Seattle's got it. If you're looking for a wine tasting weekend, look no further than Chateau St. Michelle. If sightseeing is what you're into, then skip the restaurants and instead watch fresh fish fly at Pike Place Market, where you can buy fresh, inexpensive, local fare to create a lunch or dinner picnic. Then, visit the original Starbucks or head to the Seattle Center to take in a panorama of the city from the Space Needle's Observation Deck, 520 feet above sea level.
Mount Rainier National Park – This stunning 368-square-mile park was the fifth national park established in the United States. Home to Mount Rainier, 25 glaciers, Wonderland Trail, waterfalls, valleys, meadows and more, you have the chance to take a peek at nature's finest creations.
 Oregon
Portland – While some may be familiar with Portland only through the parody TV show "Portlandia," this city is in fact ripe with culture, style and taste. Save a buck and dine from one of the city's famed food trucks while you browse Portland Saturday Market, which showcases the best of Portland's artist community. Or meander through the impressive free parks system that includes swimming pools, nature walks, Jamison Square and more. There is always something fun to do and good to eat in Portland, even on a budget.
Willamette National Forest – Many may never have heard of Willamette, but this 110-mile stretch of natural beauty houses the western slopes of the Cascade Range throughout western Oregon. With everything from camping at Waldo Lake to hiking Salt Creek Falls, this vast yet widely unknown mountainous area offers a scenic retreat away from the hustle and bustle of the city for families that want to bypass hotel costs and save money by camping instead.
Northern California
Wine Country – Between Sonoma and Napa Valley, California's famed wine country is known for its dozens of privately owned wineries. Go for the day, a weekend or a week and never tire of sipping your favorite Varietal while overlooking some of the most stunning vineyards in the nation. Even if you don't want to partake in the numerous tastings available, wine country is also known for its renowned cuisine, walking and bike tours, spas and more.
San Francisco – Walk across the Golden Gate Bridge; drive down steep Lombard Street with its eight tight turns; eat a lobster roll on Fisherman's Wharf; sample chocolate at Ghirardelli Square; tour Alcatraz; take a cable car ride. You can do it all in a day's time, or spread it out and leisurely discover all the city has to offer. One thing's for sure: There's always something to do in San Francisco, and you won't break the bank to enjoy a jam-packed day or week in this always-bustling city.
Photo credit: Courtesy of Mary Jo Manzanares
The Travelers Way occasionally accepts guest posts from fellow travel bloggers, friends within the travel industry, and as advertorial content.