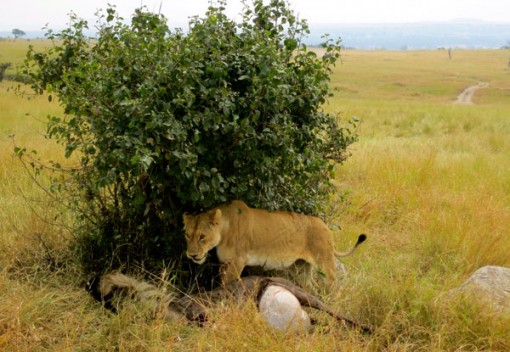 When I imagined going on safari in Africa and staying in tents in the Serengeti, I was ready to rough it in exchange for the luxury of seeing elephants, lions, cheetahs, giraffes, zebras and rhinos up close and personal. Little did I know, AndBeyond Serengeti Under Canvas in Kenya had something else in mind.
After a restful stay at the trendy-chic Tribe Hotel in Nairobi before heading to the Serengeti, I prepared myself for what may be next: Mosquitoes, mediocre camping food, sleeping bags for beds and no more Manhattan cocktails.
The Great Wildebeest Migration
Flying in on the tiny ten-seater airplane to Masai Mara, I didn't care how much I had to sacrifice creature comforts to see not only the Big 5 but also the great migration.  In fact, my travel pal, Lindsay and I had planned to do the safari during the peak season (July-August) to witness the wildebeests plunging in magnificent droves across the Masai River.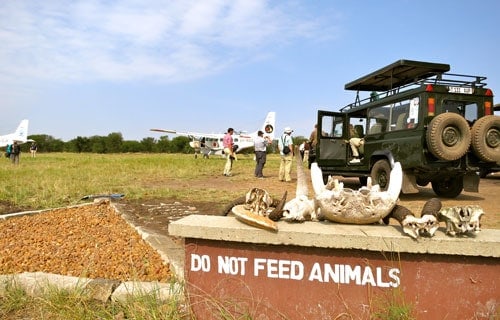 Near the rust-colored dirt airstrip (in photo above), about a dozen safari jeeps were waiting for guests, all from different safari outfitters and camps, including AndBeyond.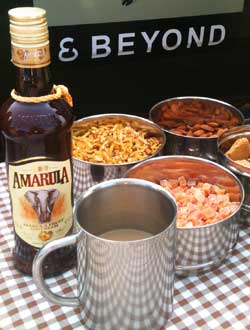 Our driver and safari guide greeted us with a huge smile and asked if we'd like coffee and snacks. I looked at him strangely, only seeing a cinder block bathroom in this no-frills airport. Was there a Starbucks here too? Thankfully, there wasn't; what was waiting for us was a scrumptious spread atop a brown-gingham draped table of almonds, butter cookies, dried fruit, and even Amarula (Africa's version of Bailey's).
I looked around to see if this was standard practice among the other safari companies. Nope. AndBeyond Under Canvas was the only one offering this. Fancy, I thought, especially being in the middle of nowhere Serengeti.
A Personal Butler in the Middle of Serengeti
It's about an hour jeep ride over rough roads into the heart of the Serengeti until we reach the mobile AndBeyond Under Canvas campsite (it moves, based on the wildebeest migration). Three staff members greet us as we arrive, waving, flashing million dollar smiles. Cool towels to wipe off the dusty grime that's settled on our faces and a refreshing ginger-limeade drink also accompanied the warm welcome.
We were then introduced to Moran, our personal butler. I had never had a personal butler on a camping trip or any other trip up to this point, but I happily accepted the unexpected perk.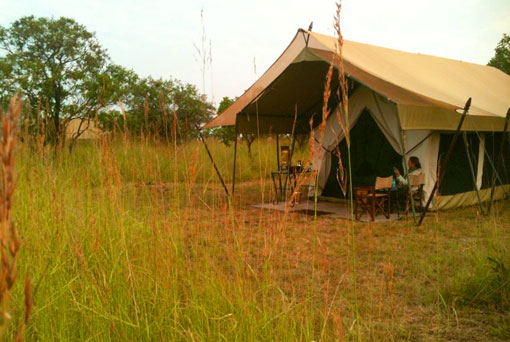 Moran, we found out as he escorted us to our tent, is not only a butler but also a Maasai warrior of the Maasai tribe. The Maasai are Kenya and Tanzania's indigenous nomads that live off the land, much like they have done for thousands of years.
As Moran shows us our tent, my mouth drops open at the amenities: Real beds, a vanity with running water, a shower and an actual flushing toilet.  Now this was glamping. You had to schedule your shower because they had to fill the container ahead of time, but still, it was a hot, decent water pressure shower.
Giggling when Moran asked me what time he should prepare our shower for, he knew he had a playful personality on his hands. He proceeded to tell a story about how an AndBeyond Under Canvas guest was awoken by noise from his shower. He went to investigate and found a thirsty giraffe stretching his long neck for a drink from his shower container!
Manhattan Making Maasai Warrior
After our bespoke showers, Lindsay and I headed to cocktail hour (the photo below is what the bar looks like in daylight). Silly me, I had no need to worry about not getting a cocktail in the middle of Serengeti as they had a full bar. Since the experience had been so "and beyond" my expectations, I ordered a Manhattan, just for kicks.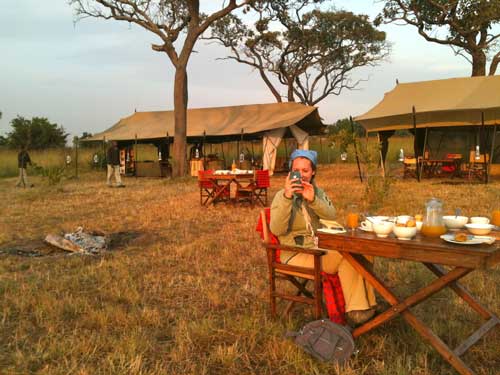 Another guest from the U.S. chortled when I ordered and said, "You're asking for a Manhattan in the middle of the bush?" I shrugged and smiled at him.
The drink arrived. I took a sip. And set the drink down and ordered a glass of wine. The ever observant and attentive Moran noticed it and asked in his exotic Tanzanian accent, "Is no good?"
I couldn't lie, not here anyhow. Sitting fireside under the stars, hearing the occasional lion growl in the distance and feeling peacefully connected to nature, the honest truth flew out of me. "No, it's not good at all. Too much sweet vermouth," I blurted out.
He looked disappointed. But without delay, asked if I could show him how to make a Manhattan the "good" way. I said yes, but first, he had to teach me how to wear the stunning red and blue Maasai cloth the men wear. He agreed, flashing his huge, winsome smile. It was a deal.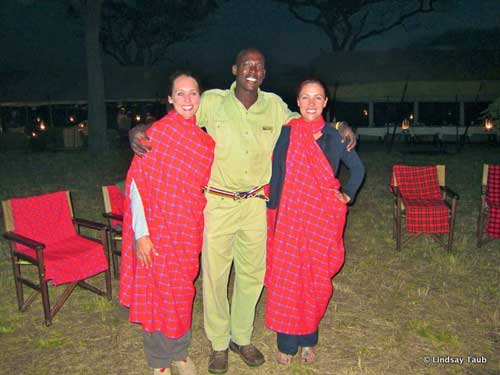 I got to give him a cocktail lesson and Moran gave Lindsay and I a fashion lesson (pictured above). Mostly importantly, we literally crossed cultures and bonded.
The dinner the next two nights by candlelight at AndBeyond Under Canvas was better than many restaurants I eat at in my home city of Los Angeles. And who could top the evening entertainment of African singing, playing "Where the Lion Sleeps Tonight" with the spotty Wi-Fi and chatting with other travelers under the serene Serengeti sky.
I'm afraid my glamping experience in the bush might never be topped. Between the cushy accommodations, the exquisite meals, the heart-warming staff (as pictured below) and the wildebeest migration sighting, I probably will always pine for those days I roughed it in the Serengeti with AndBeyond Under Canvas.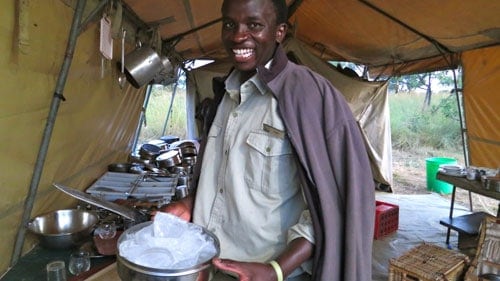 Resources
Shots for Kenya – I discovered the best organization for travel vaccinations. Passport Health offers a one-on-one appointment with a doctor to discuss which shots are necessary and then administers it on the spot. The doctors and nurses are briefed daily on current disease outbreaks around the globe and the vaccines are less expensive out-of-pocket than going to your family doctor, especially if you have no health insurance.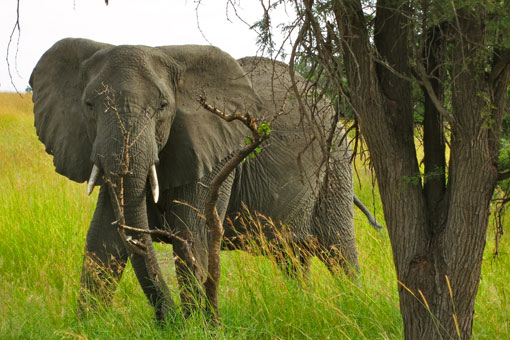 Visa for Kenya – You can apply for a Kenyan Visa ahead of time or you can apply and purchase one at the airport in Nairobi.
Safari Clothing – Forget the khaki multi-pocket vest and all that serious outdoor gear. Save yourself some money (like I wish I had) and just pack lightweight comfortable clothes you can layer as it can get cool at nights from June-September. It is believed light-colored clothing is best to avoid getting bitten by mosquitoes and tsetse flies, but it's not all that important if you load up on bug spray (which most safari companies provide).
Africa Safari Budget – Let me just say right away, going on an African safari and budget are two words that don't go together. Know that this may be the most expensive trip of a lifetime and prepare for expenses for those international flights, in-Africa flights, park fees ($80 per day in Kenya), road transfers and lodging. I tell all my friends to start saving now for their safari trip, even if they can't take for another a ten years!
AndBeyond's Under Canvas all inclusive rates per night range from $650 – $995 per night. This includes all meals, drinks, safari excursions and conceirge services. There are less expensive safari camps to stay at but it will still be pricey. An African safari, any way you plan it, is a luxury, but well worth it.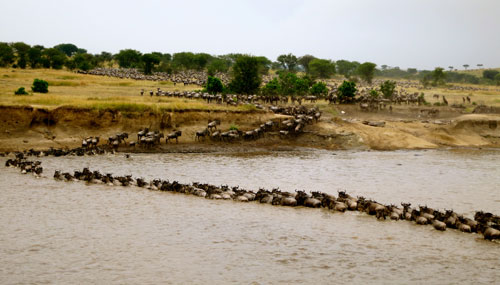 Getting there – Fly into Nairobi, Kenya. I flew into Istanbul, broke the long flight up and stayed a few days there, and then went on to Nairobi on Turkish Airlines. Their new comfort class (aka business class) is worth the splurge. Flights between safari camps are usually arranged by the safari camp you're staying at and I don't recommend trying to do it on your own, it's nearly impossible. AndBeyond's concierge booked all our in-Africa flights.
NOTE:  My stay at Tribe Hotel and AndBeyond was hosted but all opinions express are my own.
Lanee Lee is a Los Angeles based writer who uses her craft to pursue her passions – travel, artisanal food/spirits and maximizing quality of life. Lanee has traveled extensively – always in search of those golden moments of bliss. When she's not gallivanting the globe, she enjoys learning cooking tips from her French boyfriend and emulating Grace Kelly style. You can follow her latest adventures: www.laneelee.com, @wanderlushdiary on twitter.