Portland might just be the current capitol of cool. It was voted America's most bikeable city, it's a vortex of microbrews and crafted coffee, and it even has Portlandia, an Independent Film Channel TV show mocking the city for all the quirks that make it great. Here's the truth about Portland: It IS cool. It's got exactly the qualities that make a city weekend getaway fun.
Okay, we'll try it. Where should we stay?

Hotel Modera: Walking distance from almost every single thing you want to do downtown, the Moderna has attractive, comfortable rooms that are great value for what you get. Comfortable beds, nice products in the well appointed bathrooms, plush carpets, great attention to detail. There are open fire pits in the courtyard to keep off the chill on the Pacific Northwest city's dry nights and an excellent restaurant on site, Nel Centro. (More on that below.)
Hotel Monaco: Right in the heart of downtown and all kinds of green (as in eco) the Monaco is, well, it's fun. The hotel rents bikes, upping the cool quotient immediately. The hotel is pet friendly, so much so that if you're traveling without your animal sidekick, they'll hook you up. They've got a fish friend to keep you company. Yes, repeat visitors can ask for the same fish.
Yeah, but where are we going to eat?

Mother's Bistro: The shabby chic decor and crystal chandeliers are a little contrary to what you'll get on your plate — giant servings of excellent home cooking. The breakfast menu includes biscuits and gravy to make you swear off all other breakfast standards. Or it would, were the cornflake flocked French toast not so scrumptious. Or the salmon hash. Or… go hungry and with a reservation, this place is popular for a very good reason.

Cacao: It looks a little bit like a jewelry store, but the sparkly goods here are curated fine chocolates from around the world. The best thing about Cacao (besides their drinking chocolate)? They'll let you taste the goods. Curious about what a 100% chocolate bar tastes like? Just ask. You'll get tips on how to eat chocolate, too, if you're interested in setting up a tasting party of your own.
Nel Centro: On site at the Moderna Hotel, Nel Centro's menu says they serve the cuisines of the French and Italian Riviera. Sounds a little fussy and twee, right? Not in the least. Lunch here will last you all day. The tuna melt is an open faced gooey plate of deliciousness, local seafood is presented with a light touch and plenty of fresh greens. Nel Centro is proud of their pastry chef; you might want to save room for dessert.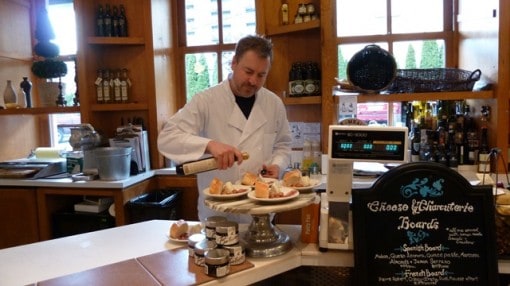 Elephants Deli: Not far from downtown, this adorable corner deli has an abundant selection of local goodies, hot and cold plates, and a full bar! There's a well lit seating area and the place is full of temptations, be it the Oregon pressed olive oil, the impressive bakery case and bread selection, or the daily lunch special. If the place is full up, ask to share a table, Portlanders won't mind.
That sounds great, but we need stuff to do.

Pedal Bike Tours: It's Portland. You need to take a bike ride, no question. Pedal Bike Tours has knowledgeable, friendly guides and well maintained bikes — extra points for this, not all bike tour companies provide such a nice ride. If you do the Bites by Bike tour, you'll snack your way through the morning, but there are other options — a history tour, a sustainability tour, and, because Portland is famous for microbrews, a brewery tour.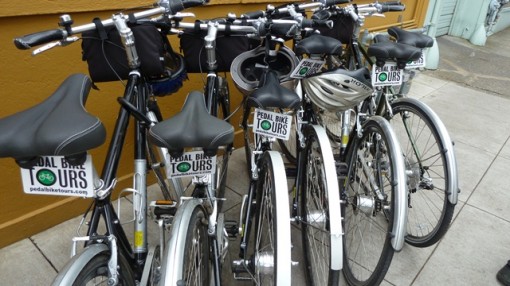 Lan Su Chinese Garden: The garden is an oasis of tranquility that takes up a city block. There are special exhibits in the pavilions, but the real draw is to wander the little windy paths looking at the elegantly framed views. The tea house is a delightful quiet place where you can have snacks and the tea you've selected from the extensive offerings. It's a beautiful place to spend quiet time.
Portland Art Museum: In addition to their changing exhibitions, the museum has a small but impressive collection of Native American pieces and work by Pacific Northwest artists. There's a small sculpture garden between the original wing and the new wing (it houses modern art and photography). The museum stays open late on Thursdays and Fridays if you like your art after hours.

Powell's Books: Yeah, you can get books for your e-reader nowadays and mail order services ship them right to your door. But this maze like store reminds you that there's a very distinct pleasure in browsing shelf after shelf of unknown titles. You'll walk in thinking, oh, I'm just going to take a quick peek and see if they have that book I heard about and three hours later, you'll be sitting in the Great Explorers section wondering why you don't take time to read anymore. Yes, there's a cafe, you'll need refueling.
Washington Park: Want to play outside? Washington Park is just outside of town — and you can get there on the MAX, Portland's light rail. It's home to the Oregon Zoo, the Children's Museum, the International Rose Test Garden… There are hiking trails, a playground for the kids, tennis courts. All this, and you don't need your car.

Any other advice?
Here's a tip — the city has a package called Portland Perks. It includes discounts for hotels stays (including parking, which you'll have to pay extra for at most properties), activities, dining, shopping, and more. Not all city discount plans are worth the bother – this one absolutely is.
Finally, while it's tempting to book yourself up with all that Portland has to offer, leave time in your schedule for accidental discoveries. That place with all the hand made crafts. The teeny tiny microbrewery. The food cart "pods" — patches of real estate taken over by little stands offering pie, mac and cheese, Hawaiian plate lunch… you name it, you can get it. The western wear store. And oh, so much more. This walkable, bike-able city has so much to offer, you'll want to plan your next trip before you've even finished your first one.
Disclaimer: This writer's trip to Portland was sponsored by Travel Portland. She tends towards the critical, but Portland completely won her over, and these glowing reviews are, indeed, her own.
Photo credit:  from the author's personal collection

Pam Mandel is a freelance writer and photography enthusiast from Seattle, Washington. Pam's top travel destinations are wherever she's heading next, but she loves Hawaii and the Pacific Northwest.
After a recent a trip to Antarctica, she joined the unofficial Seven Continents Club. She's on the web at Nerd's Eye View.