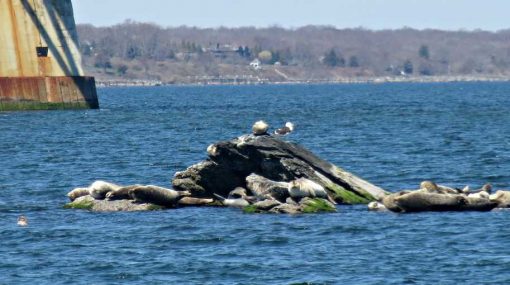 Ever wonder what can make an entire boat of passengers say "Awww" at the exact same time?  Spotting a young Harbor Seal sunning itself on a rock, for one.
Harbor Seals arrive to the waters of the Narragansett around November seeking the comforts the Bay has to offer. Namely, protection from predators, an abundance of food and the slightly warmer waters. As the spring weather of March and April heats the water to above 45 degrees, lukewarm to a seal, the creatures congregate together in a type of bon voyage celebration before heading to cooler waters of the Bay of Maine. There they spend the summer months, repeating the cycle year after year. One way to see these winter visitors is aboard a Seal Watching Cruise sponsored by Save The Bay.
Save The Bay was founded in 1970 as a way to protect Narragansett Bay from environmental dangers, and to teach the importance of the Bay not only as a natural resource, but as a way of life. As part of their mission, Save The Bay, offers educational programs and summer camps aboard two boats, also known as education vessels. Somewhere along the line, someone thankfully realized that while these two vessels sat idle, they could instead be used on a variety of excursions to help support their educational programs.  Among the excursions are Harbor Seal viewing cruises and lighthouse tours, offered from several harbors.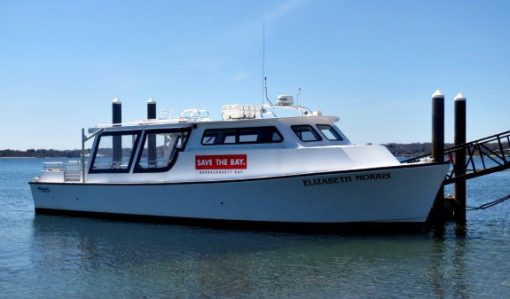 From Newport, Rhode Island, a one-hour boat based tour is offered to view seals on the rocks off the shores of Rose Island and under the Newport Bridge. A two-hour tour includes the cruise passed Citing Rock, a popular hangout for seals and a trip to explore Rose Island Lighthouse. This area is so popular  that an informal count of 600 Harbor Seals were spotted this season.
With cruises running weekends, November-April, guests are checked in and welcomed aboard from Bowen's Ferry Landing at Marketplace Square in Newport. Once aboard, a brief safety lesson followed by an educational talk about seals and we were underway. Knowing that the air temperature out on the water can drop 10 -15 degrees from that on shore, I was concerned a winter voyage would be unbearable. The boat however has four rows of bench seats with covered roof and clear sides to break the wind. As the seals come into view, you can easily see through the clear panels or step to the rear for an open air view.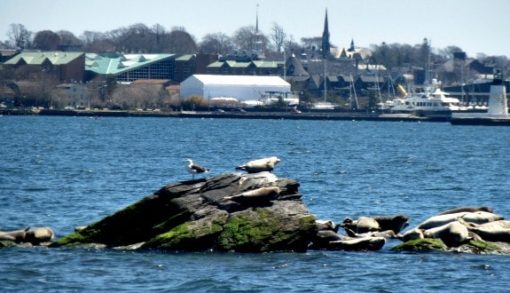 During the educational portion of the cruise we learned that the seals haul out to conserve energy and rest on the rocks. Most of the time they lay with their head and tail pointing upward in the banana position. They can also be seen bottling or bobbing in the water with their faces out in order to breathe. Afraid that this was going to be another Manatee adventurefor me where I seemed to be always looking in the wrong direction, I was thrilled to see a dozen or so seals hauled out, bottling and in the banana position!
The boat makes a complete slow circle around Citing Rock providing a 360 degree view. While Save the Bay is happy to provide binoculars, they are also the binoculars used for the school trips and thus have been put to good use.  I went through a few pair and found them adequate for viewing, however, a more powerful pair from home would have made the trip more enjoyable. And by all means bring your camera!
With the circle complete we were off to Rose Island, one of 36 islands located within Narragansett Bay, where we would disembark to explore for about 45 minutes. The Rose Island Lighthouse  was built in 1869 to service the highly navigated waters just outside the town of Newport. Other buildings on the 18 acre island include a foghorn house, barracks and munitions storage bunkers. Portions of the Island are blocked off for the protection of nesting birds, but walking along the shore I discovered a handful of wave-worn sea glass.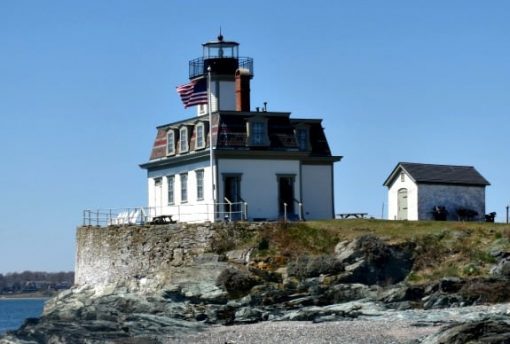 The lighthouse itself, was kept running by keepers and their families for over 100 years. Abandoned for a period of time, the Lighthouse has been fully restored to a charming 1912 appearance and is listed on the National Register of Historic Places. Still manned, the Lighthouse is a private navigation aid to boaters. Currently however, keepers are not paid employees, but vacationers staying at the Lighthouse from one night up to one week.
In preparing for your Save The Bay cruise, there are a few things to keep in mind:
 While there is parking near the wharf, Newport is a very popular destination, especially on weekends. It is best to arrive early to secure a spot or to allow extra time for searching.
Guests are allowed to bring a cooler with beverages, including the adult variety, and snacks for a picnic on the Rose Island shore. Keeping popularity in mind, if you wish to dine in Newport before or after the tour, make reservations, you don't want to miss the boat!
Even though it is relatively smooth sailing, participants under the age of 13 are required to wear a provided life vest.
For first-timers, practice using binoculars at home. Trust me, it can be very frustrating not being able to see what you are looking for!
Keep a close eye on the weather forecast and dress accordingly.
Save this to your favorite Pinterest board as a reminder to book this come spring.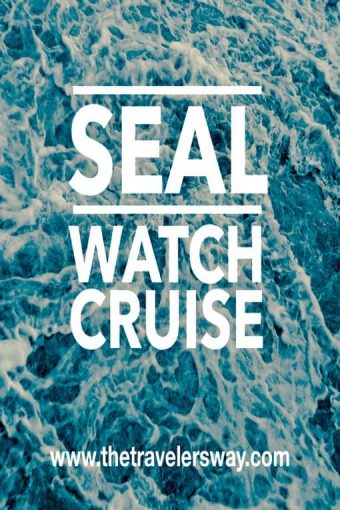 Disclosure:  The author was given discounted admission by Save The Bay for the purpose of a review.
Photo credits: J. Ingersoll
Having been transplanted numerous times, I have learned to explore the sites around our new found hometown, uncovering hidden gems and attractions. When vacation time rolls around, I enjoy traveling with my family and the occasional weekend escape with my husband, coming home to share our travel experiences with others. You can follow me on Twitter @JAIngersoll. My top three destinations are Walt Disney World Resort, the Midwest and any beach I can walk along.