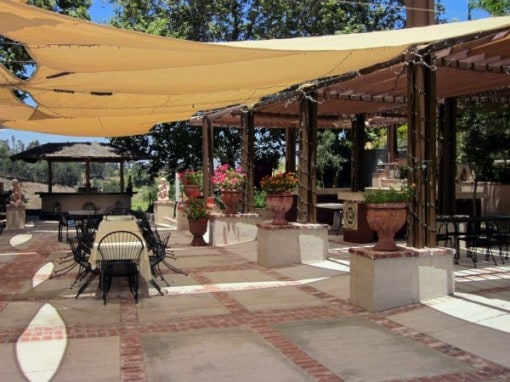 When you think San Diego, there are many things that come to mind before wine. There is the historic Gaslamp Quarter, beautiful Balboa Park, and scenic drives up and down the coast. However, there's wine to be drank too. Located only an hour from San Diego is southern California wine country, the Temecula Valley. While Temecula isn't as famous as its northern neighbors, this region is a fun place to spend a day wandering between wineries, setting up a picnic, and getting away from the city. Once you arrive in Temecula, rolling hills and gorgeous wineries will be waiting for you.
Transportation
When planning a trip to the Temecula Valley, one of the most important decisions to make is transportation. Some travelers choose to take a rental car, but keep in mind that although tastings at wineries are small, they do add up. A better idea is to hire a car and driver for the day. On a recent trip to San Diego, I chose Sterling Rose Transportation. A black town car picked us up at our hotel and our cheery, informative driver helped us to choose a few wineries that suited our preferences.
Different types of cars are available for larger groups, and a typical package would be five or six hours (including driving time). Prices vary according to size of group and vehicle.  Inquire about prices and specials.
Choosing Wineries
First time visitors to Temecula Valley will have a long list of options for wineries to visit. Luckily there is an excellent websites, Temecula Wines, that breaks down your options. This website reveals details about each winery, and even suggests itineraries based on personal preferences. Whether you're interested in visiting boutique wineries and meeting winemakers or visiting some of the biggest names in Temecula, this website will help you to organize your visit. Learn about what vineyards are best for fans of big red wines, where the best deals are for midweek visits, and off the beaten path wineries.
A First Visit to Temecula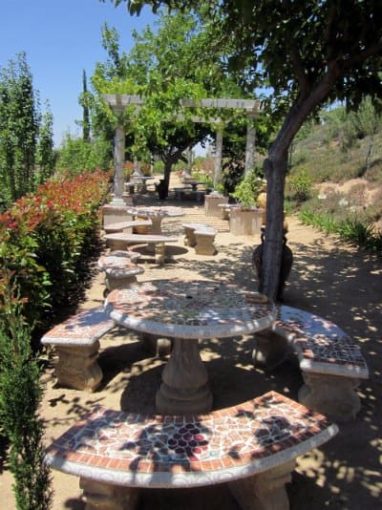 On a sunny June day, Larry, our driver, picked us up at the front door of our hotel. A cooler was full of cold water and drinks as over the hour drive to Temecula we picked his brain about the best wineries and where to visit. After a quick one hour spin, we turned off the highway into Temecula. Although I have spent time in different wine regions, I am always surprised at how incredibly beautiful wine country is. The sharp rows of vines and carefully-tended wineries were the perfect counterpoint to a trip to bustling San Diego.
The first winery on our itinerary was Mount Palomar Winery. Resembling a Tuscan villa, this winery was incredibly striking. An outdoor patio was full of shady tables for enjoying a glass of wine and the tall cypress trees made it more like Italy than California. First stepping foot into this winery I knew staying on schedule for the rest of the day would be a challenge – this is the type of place that I could happily spend an entire afternoon sipping wine and enjoying a meal at the scenic restaurant, Shorty's Bistro.
Inside the tasting room, we were given a list of all the available wines to taste. For a $10 tasting fee, we tasted six wines including whites, rose, reds, and sparkling wine too. At Mount Palomar, it is possible to design your own tasting. Whether you love whites, or want to try only reds, this winery is ideal – especially for groups of people who have different taste in wines.
Next up we got back in the town car and set off for one of Temecula Valley's biggest and best known wineries: South Coast Winery Resort & Spa. Even during the week the tasting room was busy, filled with people chatting with the knowledgeable staff about grape varieties and local growing conditions. This winery had a less European feel, but offered a buzzing atmosphere. For a $15 tasting ticket, we tasted five different wines. Be sure to tell the staff members what types of wine you like, and let them steer you in the right direction. I particularly enjoyed the light reds at South Coast.
Boutique Wineries
The Temecula Valley is also known for its small, boutique wineries. If you visit during the week, it is possible to be one of the only visitors, guaranteeing a more intimate experience than some of the larger wineries. I wanted to visit Doffo, an off the beaten path option where the owner is known for playing classical music to his grapes, but it was closed on the day of my visit. Instead we visiting Keyways, the only winery in Temecula owned by a woman. The outdoor patio was a lovely place to relax after several hours of visiting wineries.
Wrapping Up
After three wineries and a picnic lunch, it was time to return to San Diego. Each winery offered its own distinct atmosphere, and while I definitely enjoyed wine tastings in other parts of the world more, it was still fun to chat with the knowledgeable staff about how wines are made in Temecula. An hour and a snooze later we were dropped at the door of our hotel. Choosing a car service gave the whole day a feeling of ease – we didn't have to worry about maps or programming a GPS. I got to keep my eyes on avocado trees and other scenery instead of the road.
Temecula Valley might not be California's most renowned wine region, but it offers a fun day filled with sunshine, tastings, and fresh air.
Photo Credit:  Courtesy of Jessica Colley
Jessica Colley is a freelance travel and food writer based in New York City. She proudly called Dublin home from 2008 – 2010 and writes frequently about the city and Ireland. Three of Jessica's favorite travel destinations are Ireland, Italy, and Berlin. Find her online at www.thegreatamericantraveldream.com and on Twitter @jessicacolley.