You've been planning your trip for the last 3 months and possibly dreaming about it for most part of the year. All those guide books you managed to skim during your escapes to the local library or bookstore made it a real challenge to synthesize centuries of culture and tradition into a super-efficient, carefully crafted tour that will have you retracing the steps of millions of tourists that have been to the big city before you. I had already written about this common travel trap in I could live here:
One could argue that the splendour of any famous landmark is constantly diluted by the ongoing attack of mass tourism, misguided by a market saturated of travel guides that most of the times reference the same top 10 or 20 landmarks not to be missed, while telling us every snippet of knowledge that travellers must know about these places, cancelling every attempt to make that experience unique.
As if facing the prospect of getting a diluted version of Paris was not bad enough, a recent analysis of the way that tourists and locals experience the same cities reveals that your quest to "experience the french lifestyle" is way off: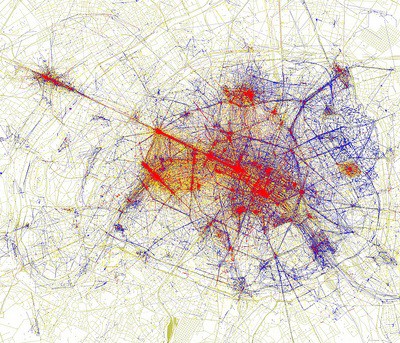 Imagine being able to tag along whenever you visit a city and follow the average local on a typical evening of fun, culture and social interaction; "holding hands" so to speak, or as professor Yumi Janairo Roth of Colorado prefers, asking locals to share a tiny bit of their local knowledge by drawing a map on their hands.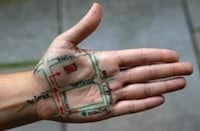 While Prof. Roth's experiment is interesting, I prefer to learn from travel bloggers that have mastered the process of immersing themselves into whichever cultures they visit. At the top of my list are Lara & Terence from the Grantourismo blog who have made a profession out of mastering the local scene wherever they go in about 2 weeks. Of all the things they do, I find it fascinating how they can connect with locals that will share the best of their cities. Across the blogosphere the Local Travel movement is well represented (special shout out to Vicky of Going Local Travel). Their proponents suggest you should always try to experience a destination by discovering the places and activities enjoyed by locals so you can begin to understand their way of life. But how can you possibly figure out where the locals are and what they do?
If Benji Lanyado can manage to convince the rest of us, all you need is a mobile phone and the right tactics for what he calls Twitter Trips or trips where any plans are forsaken for up-to-the-minute recommendations collected from locals using Twitter. After more than a year of perfecting the practice he is certain that the notion of building a realtime guide based on feedback from locals connected to the same virtual channels you use can lead to more authentic experiences that reflect the zeitgeist of a city as opposed to whatever recommendations found in guidebooks, which may be months or even years stale. Hungry? Send a tweet with your location asking locals to recommend a restaurant nearby. Feeling adventurous? Venture into the city with nothing else but an alert from one of your local "followers" about a great venue.
Of course, not all recommendations have to be anonymous and perhaps the best part of this approach is the possibility of connecting with locals even if you didn't know them in advance. A simple "loose" virtual connection can become a strong bond once two strangers meet face to face. This could very well be the motto of the new AFAR Connect (currently in private beta), a platform for travellers to define their travel 'personality' and connect with like-minded locals.
In the end, our ability as travellers to uncover the side streets where locals gather to buzz around all day, is perhaps the most critical skill to immerse ourselves into a new culture. Tools and tactics will probably continue to get better, but nothing will replace the fact that you have to meet a local, captivate them with your journey and listen to their stories. You should count your travels not by the number of places you visit, but the number of shared experiences with locals, as only these will have a lasting effect on you.
In a future post I'll summarize a lot of things I'm learning these days about finding the best hosts wherever you go. If you have met a great host or love hosting travellers, please drop me a line to participate in a new project.