For my last trip to New York City, I approached the planning process in a completely new way: instead of spending hours looking through dozens of sites for deals, lists of hotels, distance to landmarks, comparing prices and star ratings I used one tool: the Livability Calculator from New York magazine's Neighborhoods issue, which I had just written about in new york's most livable.
The online tool was designed to help New Yorkers find the best boroughs to live in, so to experience the city the way they do, I figured the best way was to follow them. Using the interactive sliders, I prioritized transit, restaurants, nightlife, diversity and green space over schools, health and definitely slided housing cost all the way to the left. The top choice: "West Village/Meatpacking".
Meatpacking? Really? From my loyal subscription to Monocle magazine, I've learned that a good market can always transform a neighbourhood. Read yourself about the transformation of Cape Town as a result of the opening of "Neighbourgoods Market" by Justin Rhodes and Cameron Munro (Issue 35, pp.145). Not to forget that I spent the last 6 months arguing that St.Lawrence Market was one of the best ways to discover Toronto. Fine, let's go to the West Village/Meatpacking.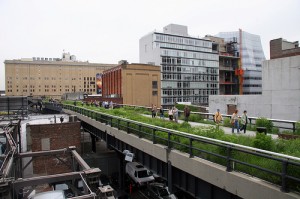 The trip was superb in many ways. A few of the highlights included watching a World Cup game among another 30 or so neighbours in an improvised street theatre with a HDTV courtesy of an entrepreneurial bistro, walking the cobblestoned streets of West Village which seem to be rebelliously misaligned from the rest of the grid, discovering the new urban oasis that is the High Line, the quintessential subway adventure which included taking the express two stops too far and hanging out with long lost friends at one of the hottest unassuming Bossa Nova venues in the city.
But the prelude to all this was the firm decision to find accommodation in or around the West Village. There are a few really great hotels in the area, most of them small boutique hotels like Soho House New York or Gansevoort Meatpacking NYC. Even The Standard an iconic building right on top of the High Line could've been an option. But as nice as they all are, they have one problem: you'll be looking at a bill of at least one thousand dollars for a long weekend.

Instead, I found a nice single room in a large apartment available for US$65/night, just a few blocks away from my target area and around the corner from a subway station. The short term rental was a in a 6-story apartment building with one of those elevators with double doors you see in old movies. The building was in itself a good indicator of the awesomeness of a mature neighbourhood, as its type is the landmark of urban models that appeared at the turn of the XX century, with "high-rise" promoting density and mix use of the land.
Lately cities like New York and Paris have been trying to figure out the ecosystem of short term rentals (read update at the bottom). Perhaps under pressure from the lodging industry that finds the emerging trend troubling following one of the worst years in terms of occupation. It is ironic that some of the arguments used to counter the trend is the fact that these rentals take away inventory that would be otherwise available for residents to live in. From The New York Times: To Address Its Housing Shortage, Paris Cracks Down on Pied-à-Terre Rentals
Mayor Bertrand Delanoë ordered an agency last year to warn property owners that renting out residential apartments for less than a year at a time violated French law. The move was intended to address the lack of affordable housing in the city center.
"To live in". The reason why those of us exploring these social networks of short term rentals find them incredibly appealing: they are a gateway to the real lifestyles of locals. No matter how many amenities a hotel offers to their guests, they can't control the neighbourhood. Just visualize the chaos that reigns around Broadway and 7th at the street level. It is impossible to leave the lobby of any hotel without being approached by a never ending cast of characters inviting you to every imaginable show on Earth.
As Benji Lanyado explains in his recent New York Times Travel feature Europe Without Hotels:
Social B&B networks are a natural next step, imposing an important distinction: money. The new sites appeal to a traveler's desire to see a city through local eyes (and from the vantage point of a resident's home)
Better experience at a fraction of the cost? That is not the only reason these sites are finding great reception among the adventurous. They are also a new kind of social network, one where the people you discover in the virtual world become your guests in real life. One where the judgement you pass on the random conversations you have online will likely have a lasting effect on the friendships you develop and one that is certain to get your closer to cities around the world that you wouldn't have considered otherwise. I'll call it the neighbourhood social network.
I used to spend more time trying to figure out what hotel would offer the best deal, cross-referencing information from various sources, comparing their location on a map, reading countless contradicting reviews… still to be disappointed with the overall destination. In this visit to New York all my research was mostly about the neighbourhood, automatically making the whole experience far more gratifying as I clearly scored some pretty great "insider tips" from the very same people that would be my host.
The night I walked into the apartment, my host wasn't home, but he left a small welcome note with the WiFi password and a short list of the ways in which he was making me feel home, including his mobile number in case I needed anything, at any time. That was the last on a series of communications that started a few days before my trip. Short questions brokered by the website where I found the listing meant to introduce us and give us an opportunity to decide if this was going to be "the place". In a way I trusted him far more than I have ever trusted a concierge before.
Update from July 28, 2010: Perhaps I used a very soft tone when I said that cities like New York "were trying to figure out the ecosystem". A bill that outlaws rentals for less than 30 days was recently signed by Gov. David Paterson. To paraphrase Arthur Frommer: Big hotels win, tourism looses. However, these are trying times. People are digging deep to figure out a way to make a decent living and paying expensive hotels, even if prescribed by law will not do. What lobbyists may have triggered is an explosion of services that will find every possible way to give tourists what they are looking for: better prices, authentic experiences, closer relationships and opportunities to venture into cities that would otherwise be prohibitively expensive in the current economic conditions. Services that are based on hosts receiving guests in their own homes are going to be much more popular as they seem to be immune to the new bill. Other entrepreneurial property owners are likely going to learn fast, so I wouldn't assume that their inventory will be removed from the market as much as it will be morphed into hosted accommodation.
Disclosure: iStopOver is a client. The trip related in this article was of a personal nature and paid by the author.