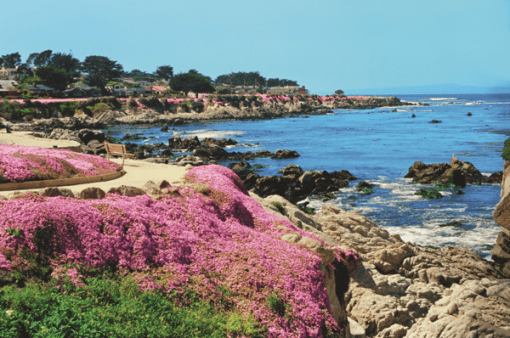 From the magic purple carpet to a canyon of calla lilies, springtime is the perfect time to see spectacular, colorful displays of wildflowers throughout Monterey County, California.
Here are seven top spots to see wildflowers blooming this spring:
Pinnacles National Park: Visitors can hike through a riot of wildflowers at Pinnacles National Park during peak blooming season – March through May. From Johnny-jump-ups to shooting stars, the National Park Service lists nearly 100 species of wildflowers found at Pinnacles. While wildflowers are spread throughout the park, for a challenging hike with stunning eye candy explore the High Peaks Loop.
Pacific Grove Coastline: Beginning in early April and lasting through late May, the coastline in Pacific Grove becomes known as the "magic purple carpet" as ice plants blanket the picturesque coast. Visitors can take in the breathtaking sights and enjoy a walk or bike ride along the Monterey Bay Coastal Recreation Trail which runs along this quaint city.
Garrapata State Park: From spring through early summer, California poppies, Monterey Indian paintbrush and  monkey flowers sprinkle throughout Garrapata State Park along with a wide variety of wildflowers. For a fantastic view and Instagram-worthy photo, try the western coastal trail that begins at gate 19 off of Highway 1. Follow the stairs down to Doud Creek to be immersed in a canyon of calla lilies.
Point Lobos State Natural Reserve: This majestic jewel on the coast has been called "the greatest meeting of land and sea in the world" and is not to be missed. In the springtime, visitors are treated to a vivid display as Point Lobos State Reserve comes alive with incredible blooms of California poppies, Douglas irises, wild lilacs and many other wildflowers. There are also more than a dozen trails that range from easy to challenging.
Garland Ranch Regional Park: This dog-friendly park in Carmel Valley offers hikes for all levels of outdoor enthusiasts. Springtime brings an awe-inspiring wildflower display to Garland Ranch Regional Park, painting the landscape in shades of purple, blue, gold and orange. The Terrace Trail in the Garzas Canyon section which is a popular spot for monkey flowers and shooting stars.
Fort Ord National Monument: With more than 80 miles of trails, the 14,658-acre Fort Ord National Monument is a hiking and biking paradise featuring paths through vast rolling hills, oak groves and vistas of Monterey Bay. Sky lupine, California poppies and wild daffodils are among the wildflowers that thrive within this coastal gem, adding to a scene of magnificent colors.
Toro County Park: Located off of Highway 68 in Salinas, Toro County Park offers more than 20 miles of hiking trails that travel through a variety of landscapes. During the spring months, the grassy meadows are filled with wildflowers including vibrant lupine blooms.
For Pinterest: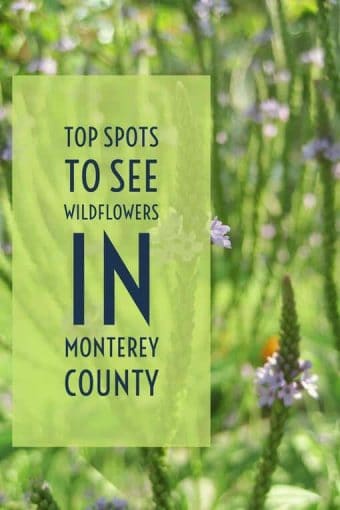 Photo credit:  Courtesy of SeeMonterey.com via TravMedia
NOTE:  This post contains affiliate links. Clicking through for more information or to make a purchase may result in a small commission coming our way. Thank you for supporting this site.
Mary Jo Manzanares is a founder and the editor-in-chief of The Traveler's Way, an online travel magazine proving informational and inspirational travel recommendations for curious Baby Boomer travelers. She has been a speaker at various industry events and has a personal travel blog at Traveling with MJ. When she's not traveling, Mary Jo likes lingering over a cup of coffee, wandering in a museum, sipping wine at a cafe, and sharing it all with friends and readers. Mary Jo's top travel destinations are Italy, Portugal, and the Caribbean.